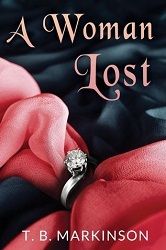 Title:
A Woman Lost
Series:
A Woman Lost #1
Author:
T.B. Markinson
Published:
January 2/14 (1st published July 8/13)
Length:
264pgs
Genre:
contemporary romance
Shelf:
review
Rating: ★★★★
Back Cover Blurb:
Elizabeth "Lizzie" Petrie has it all. She's rich, beautiful, intelligent, and successful. None of this matters to her mom. Les-Bi-An. That's all her mom sees. Even though Lizzie insists her mom's antagonism does not bother her, Lizzie distances herself from her entire family. When her brother, Peter, calls her out of the blue to announce he's getting married, Lizzie's entire life changes drastically. Peter's fiancée wants to bring the lesbian outcast back into the family. Will this desire cause Lizzie to lose everything dear to her? Sarah, Lizzie's girlfriend, is ecstatic about this change in Lizzie's personal life. Sarah, the hopeless romantic, wants it all, including settling down with the fiercely independent Lizzie. Can Lizzie be tamed? And can she survive her family and all of their secrets?
My Review:
This was a very insightful and poignant novel. Markinson's well written & polished style really let the plot shine through. She delves into a world full of conflict and disapproval where the characters ultimately need to be themselves. It was emotional and very satisfying. Readers of all walks can relate to the situation the main character finds herself in, with a bit of a twist anyways. At the same time, Markinson makes a very pointed social commentary on the state of human acceptance in general.
Markinson's characters carry her story forward well. I appreciated how well developed and well-rounded they were, without having felt like I'd read their biographies. I loved how the main characters have a support system, even if it doesn't come from the direction one would expect. Lizzie's battle with her past while trying to hold on to the future tugged at my heart, but really makes you realise that you can succeed.
As a whole, this was a very insightful & enjoyable novel. Markinson has once again created a work that will stand the test of time while also standing out.