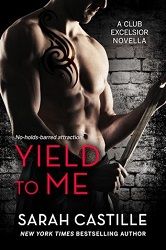 Title:
Yeild to Me
Series:
Club Excelcior #1
Author:
Sarah Castille
Published:
May 27/15 by Sarah Castille
Length:
106pgs
Genre:
contemporary romance
Shelf:
Netgalley
Rating: ★★★★★
Back Cover Blurb:
No-holds-barred attraction...
Amateur MMA fighter, Marcy Foster is determined to win the state championship. But dark secrets and a broken trust mean there's one submission she just can't master. Fortunately Club Excelsior has hired a coach who knows all the right moves.
Sexy, confident and commanding, fight consultant Jax demands control, both in and out of the ring. But once he has Marcy against the ropes, Jax knows he's in too deep. He has the dominance to give her what she needs, but once he unleashes her hidden passions, there's no going back.
Under Jax's skilled hands, Marcy submits to her deepest desires. But when her personal and professional worlds collide, she is forced to face a brutal truth — yielding to her darkest needs may be the one thing that costs her the fight...and her heart.
*This novella was originally published in the New York Times bestselling anthology, Unraveled, and now contains 50% new content*
My Review:
I love Castille's take on MMA & the look at women fighting. It's empowering without going overboard. The theme of accepting who you are and using it to your advantage also heightened my enjoyment of the story. I was absolutely entranced by Castille's writing. I simply couldn't look away. Not only is the story well written & edited, the plot is solid & exciting. Her narrative and descriptions bring this novella to life in a very vivid and enticing manner. The fight scenes are just as vivid and captivating and the erotic ones. Castille takes an extremely unique look at the world of domination and submission, creating a unique niche for herself in a flooded market.
The dual perspectives in this tale gives a well-rounded impression of the main characters and their stories. The contrast & similarities between the two makes you see how they'd make a great couple, while their antagonism towards one another sets the chemistry aflame. Backed by the family and loyalty at Excelsior, these characters really make you want to come back for more.
Castille's work never fails to captivate her audience but she steps above and beyond with this one. It is a fantastic start to a series that I will be avidly following. I wouldn't hesitate to recommend this to others.