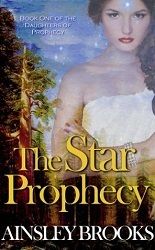 Title:
The Star Prophecy
Series:
The Daughters of Prophecy #1
Author:
Ainsley Brooks
Published:
December 14/13 by Stump House Publishing
Length:
230pgs
Genre:
fantasy
Shelf:
review
Rating: ★★★
Back Cover Blurb:
In fiery splendor, a star will rise over the land.
Summoned by a vision of death and destruction, Aerdrin leaves her beloved mountain sanctuary and braves a world where women like her, wielders of the magical elements, are hated, hunted, and burned alive. To Talehndor, an ancient land of mystery and majesty, she travels, knowing only that she must seek out Throne Prince Alkaidin Thaine, for he alone can prevent the devastation of her vision.
Kaid faces trials of his own, not least of which is his betrothal to a woman he detests. The marriage will forge a powerful alliance for his kingdom, and Kaid will do anything to be worthy of the throne he so recently reclaimed, but the mantle of duty weighs more heavily once he meets Aerdrin. Her horrific prophecy and spellbinding allure threaten his kingdom, shake his resolve, and force him to question everything he believes about wielders, duty, and his own destiny.
Together, Aerdrin and Kaid must face that most powerful of enemies--fate. Their weapons may mean salvation or destruction, and destiny may demand more of them than they can bear to give.
When the swords fall silent and the flames subside, will the light of the star still shine in Talehndor?
My Review:
Brooks takes the fantasy genre & brings it to life in this unique tale. Plot twists and turns abound in this novel, keeping readers coming back for more. It did take me a while to get used to Brooks' writing style, but once I did I quite enjoyed the story. It was a bit stilted at times, but there is a definite flow to the writing once you get used to it. Fantasy combines with YA in a manner that is quite interesting, giving a whole new sense to the mix.
The characters in this novel were intriguing. Each has a definite role to play, allowing fate & manipulation to lead them forward. I did find some to be rather formulaic. That said, these were some solid fantasy & YA characters that definitely bring the story to life.
As a whole, this was an enjoyable start to Brooks' new series.