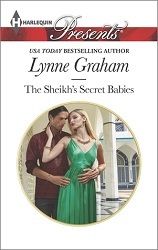 Bon Appétit and a Book
THE SHEIKH'S SECRET BABIES
***
LYNNE GRAHAM'S
Machboos
Serves 5
Ingredients
· 1 tablespoon curry powder, medium or hot
· 4 bay leaves
· 11/2 tablespoon paprika
· 2 cardamom pods
· 4 cloves
· 5 black peppercorns
· 1/4 tablespoon crushed dried lemon
· 1 cinnamon stick, broken into a few pieces
· 3 teaspoons cooking oil
· 2 large onions, chopped
· 2 cloves fresh garlic, finely chopped
· 4 fresh tomatoes, chopped
· 2 chicken stock cubes
· 1 whole skinned chicken, cut up
· 700ml water
· 400g basmati rice, washed in water a few times
Method
Prep
: 20 minutes,
Cook
: 1hour,
Ready in
: 1hour and 20 minutes
Mix the curry powder, bay leaves, paprika, cardamom, cloves, black peppercorns, crushed dried lemon and cinnamon stick into a bowl. Add the cooking oil to a frying pan and fry the onions on medium heat. As the onions are almost half way to becoming brown, add the bowl of spices to the onions and mix together thoroughly.
After a few minutes, add the chopped garlic. Once the onions are brown, add the tomatoes, chicken stock cubes and chicken. Fry the chicken until it's fully sealed. Continue to fry the chicken for about 5 minutes on medium heat after the meat is sealed. Add the water, stir well and simmer until the chicken is no longer pink at the centre, stirring every few minutes. Taste the juice and add salt accordingly.
Once the meat is fully cooked, and enough salt added, add the rice. Bring it up to the boil, stir it every 3 minutes for approximately 6 minutes. Then turn the gas down to the lowest flame possible, put a lid on and allow it to slowly simmer, stirring every 2 minutes. As the rice is cooking, the water will slowly disappear.
When you can see the water is almost completely gone, taste the rice to see if it's fully cooked. If the rice is still not fully cooked, add a little drop of water, allow it to cook further. Taste again, and continue this process until the rice is fully cooked (carefully add a little water at a time to avoid soggy rice)
Once the rice is fully cooked then it's simply a case of just serving and enjoying with friends and family!
It's delicious with yoghurt, chopped mint and a fresh cut salad.
You can use beef instead of chicken, just cook the meat until it's fully cooked. The rest of the cooking remains the same.
About the author:
LYNNE GRAHAM'S first book was published in 1987. Today she is the bestselling Mills and Boon Presents author with sales of 26 million books worldwide. Born of Irish/Scottish parentage, Lynne Graham has lived in Northern Ireland all her life. She has one brother. She grew up in a seaside village and now lives in a country house surrounded by a woodland garden, which is wonderfully private. Lynne first met her husband when she was 14. They married after she completed a degree at Edinburgh University. Lynne wrote her first book at 15 and it was rejected everywhere. She started writing again when she was at home with her first child. It took several attempts before she sold her first book and the delight of seeing that first book for sale in the local newsagents has never been forgotten.
www.lyneegraham.com
.
Praise for Lynne Graham:
"Secrets, betrayals and misunderstandings fill every page of Graham's remarkable re-do romance. The melding of cultures, exotic desert customs and locales are unforgettable." –RT Book Reviews

"The romance was passionate, angst ridden and so intense." –Harlequin Junkie

"I have always been a fan of Lynne Graham as she is one of the authors who instilled in me the love for the Harlequin romances…" –Maldivian Book Reviewer's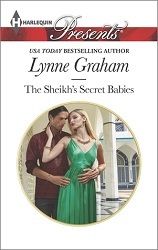 Title:
The Sheikh's Secret Babies
Series:
Bound by Gold #2
Author:
Lynne Graham
Published:
April 21/15 by Harlequin
Length:
192pgs
Genre:
contemporary romance
Shelf:
review
Rating: ★★★★
Back Cover Blurb:
Twin royal heirs!
Prince Jaul of Marwan's royal duty is to marry a suitable bride. But first he must divorce the woman who betrayed him. Locating his estranged wife? Easy. The intense passion still burning between them? Manageable. Discovering he has two royal heirs? Impossible!
Devastated when her handsome prince deserted her, Chrissie Whitaker's beautiful twin babies were the only balm to her broken heart. Now Jaul will stop at nothing to claim his legitimate heirs, but can Chrissie forget their painful past and recognize him as her husband in every sense of the word?
My Review:
What happens when those you trust most betray you? What happens when you need to rebuild afterwards? Graham has taken these questions and created a heartfelt novel surrounding them. She provided an intriguing look at the clash of cultures and the ensuing prejudices. Readers really got a feel for what it's like to be caught up in the middle of it all and how a single misunderstanding can be so life altering. They also experience the differences in culture for themselves as Graham takes them from London to Marwan in a manner that makes you feel as if you've actually been there. On top of that, she weaves in the notion of a second chance romance and some hot & steamy chemistry to keep readers on their toes.
I quite enjoyed getting to know the main characters in this novel. They were such complex individuals dealing with personal, interpersonal, and political difficulties. Jaul's realization that he may not always be right clashes directly with his authority as king, making him seem just that little bit vulnerable and so very real. Chrissie's need to do right by her children supersedes her own needs to the extent that you can't help but fall a little bit in love with her. At the same time, her love for her husband, regardless of the past, is heartwarming.
Graham has taken a story that transcends the ages and turned it into something magical. She has created characters that are believable yet beyond what most of us live in the everyday and shown how love really is worth the trouble. This is definitely a second chance romance well worth reading.