Q ~ What first attracts Roan and Prudence to each other?
Prudence is first attracted to Roan because he's different. He's an American, he's lost, and he's very handsome and dashing. When she watches him board a public coach, she follows impetuously. She has been increasingly angry about her life and her hopeless options, given what happened with her sisters. When she sees Roan, she sees adventure and a much-welcomed breath of fresh air in her boring life. Roan is not attracted to Prudence at first—she reminds him of his headstrong sister, who he just happens to be chasing across England. But Prudence grows on him. She is undaunted in the face of adversity, and she's beautiful, too. They embark on an adventure that neither of them saw coming, and one that brings out the best in both of them.
Q ~ What are you working on next?
I am excited about a new series that centers on delicate Englishwomen who marry brawny Scottish men. I will be exploring the Georgian period, too, which is new for me. I have written so many Regency historicals (and a few Scottish historicals, too) that I am eager to try my hand at a new time period. The first book is a twist on Mr. and Mrs. Smith—an estranged English bride suspects her Scottish husband of treason, and he suspects her of spying. The only way to find out who is doing what is to keep each other close until one of them gives in. It's going to be a lot of fun to write!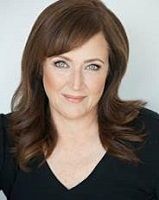 About the author:
Julia London is the
New York Times
and
USA Today
best-selling author of more than thirty romantic fiction novels. She is the author of the popular Cabot Sisters historical series, including
The Trouble with Honor
, T
he Devil Takes a Bride
, and
The Scoundrel and the Debutante
. She is also the author of several contemporary romances, including
Homecoming Ranch, Return to Homecoming Ranch
and
The Perfect Homecoming
.
Julia is the recipient of the RT Bookclub Award for Best Historical Romance and a six-time finalist for the prestigious RITA award for excellence in romantic fiction. She lives in Austin, Texas.
Praise for Julia London:
"Julia London writes vibrant, emotional stories and sexy, richly-drawn characters." –
New York Times
"Exceptionally entertaining…sinfully sexy." –
Booklist
"London's story is satisfying as it builds on the excellent chemistry of the leads, gracefully unfolding with the perfect amount of tension." –
Publishers Weekly
"This phenomenal story is written to perfection. The characters are endearing, smart, funny and full of emotion." –
RT Book Reviews
"As always Ms. London has created characters so real that you think you could call them up and have a conversation with them." –
Harlequin Junkie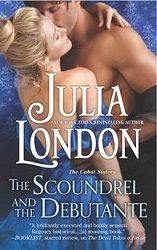 Title:
The Scoundrel and the Debutante
Series:
The Cabot Sisters #3
Author:
Julia London
Published:
April 28/15 by HQN Books
Length:
352pgs
Genre:
historical romance
Shelf:
review
Rating: ★★★★
Back Cover Blurb:
When a man on a mission takes on a beautiful but unlikely ally, seduction and adventure are inevitable…
The dust of the Cabot sisters' shocking plans to rescue their family from certain ruin may have settled, but Prudence Cabot is left standing in the rubble of scandal. Now regarded as an unsuitable bride, she's tainted among the ton. Yet this unwilling wallflower is ripe for her own adventure. And when an irresistibly sexy American stranger on a desperate mission enlists her help, she simply can't deny the temptation.
The fate of Roan Matheson's family depends on how quickly he can find his runaway sister and persuade her to return to her betrothed. Scouring the rustic English countryside with the sensually wicked Prudence at his side—and in his bed—he's out of his element. But once Roan has a taste of the sizzling passion that can lead to forever, he must choose between his heart's obligations and its forbidden desires.
My Review:
This was a fantastic novel. London has taken me on a journey that I won't soon forget. Her eloquent & well presented writing complements her unforgettable plot to create a seamless whole that romance lovers will, well, put simply, fall in love with. I love the sense of adventure and of the heroine succeeding despite the odds. It was an exciting change from the norm of the genre without throwing the genre's basic premise out the window. I also appreciate how London transports her readers back in time, taking them from where they picked up their novel to being full participants in the characters' stories.
Don't even get me started on London's characters. I want to marry them both. They were fantastic individuals. The combination of self-worth, familial obligations, and fun/adventure loving personalities were beyond compare. The supporting cast in this novel is equally enjoyable. Although we have met them in previous novels in the series, London develops them in such a manner that readers feel like they've really met them.
Although the 3rd novel in the series, this can easily be read as a standalone & is a story that I wouldn't hesitate to recommend to anyone who enjoys romance, regardless of their preferred subgenre. This may have been my first foray into this author's writing, but I can guarantee you that it won't be my last.