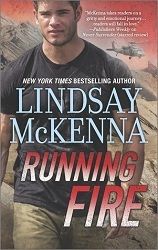 Title:
Running Fire
Series:
Shadow Warriors #8
Author:
Lindsay McKenna
Published:
April 28/15 by HQN Books
Length:
384pgs
Genre:
romantic suspense
Shelf:
Netgalley
Rating: ★★★★★
Back Cover Blurb:
He was a haven in the midst of Hell…
Temporarily assigned to the Shadow Squadron in a troubled region of Afghanistan, Chief Warrant Officer and pilot Leah Mackenzie is no stranger to conflict—even if most of her physical and emotional scars are courtesy of her vicious ex. Still, she's got a bad feeling about picking up a team of stranded SEALs. A feeling that's all too justified once enemy fire hits their helicopter and all hell breaks loose…
SEAL Kell Ballard's goal was to get the injured pilot out of harm's way and find shelter deep in the labyrinth of caves. It's a place of dark intimacy, where Leah finds unexpected safety in a man's arms. Where prohibited attraction burns brightly. And where they'll hide until the time comes to face the enemy outside…and the enemy within their ranks.
My Review:
McKenna has created another winning tale! Her vivid action packed story kept me on pins and needles throughout. I could easily picture myself in the Hindu Kush alongside the characters. I could really feel the intensity of the battles and skirmishes. McKenna paints the scenery like a 3D mural that readers can walk through. You really get immersed in the dire situations that the characters find themselves in. I like how McKenna uses acronyms and short form terms after first defining them for the reader. It really gives a feel for the characters and the action they live with in their daily lives.
But this is so much more than simply a military romance. McKenna's hard hitting, emotionally infused tale takes you on a whole other journey. McKenna tackles many forms of abuse in a very in your face yet tactful manner. The contrast of darkness and light, good and evil, friend and foe come from many corners in this multifaceted tale.
You really get to know the main characters on a physical, mental and emotional level. Leah's past is so deep that her strength to rise above made her even more remarkable. The gradual emotional recovery made it all the more believable. Kell was your typical navy seal with a kick. Being in touch with his emotional side made him all the more desirable.
As a whole, this was a fantastic read. This novel is easily read as a standalone but also ties in well to the past novels in the series. I wouldn't hesitate to recommend it to those who enjoy a good romantic suspense.