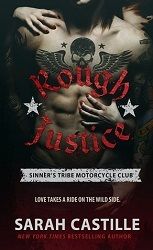 Title:
Rough Justice
Series:
Sinner's Tribe Motorcycle Club #1
Author:
Sarah Castille
Published:
February 3/15 by St. Martin's Paperbacks
Length:
384pgs
Genre:
contemporary romance
Shelf:
own
Rating: ★★★★★+
Back Cover Blurb:
From bestselling author Sarah Castille comes a scorching new series featuring red-hot, hard-riding bikers and the women who can't help but love them…
IT TAKES A GOOD, STRONG WOMAN
Raised in a motorcycle gang, tough, beautiful Arianne Hunter has always dreamed of a normal life. But no sooner does she escape her father's domineering grasp than she wakes up to find herself in a rival gang's clubhouse—at the mercy of the dangerously sexy Jagger Knight.
TO TAME A MAN WHO'S HELL ON WHEELS.
The alpha leader of the notorious Sinner's Tribe, Jagger Knight is all muscle, all biker, and all man. But somewhere inside this hard tattooed outlaw, Arianne senses a kindred spirit—and she can't ignore their tempestuous attraction. Can she beat him at his own game in a revved-up blaze of glory? Or will their passion spark a war that's the end of the road for them both?
My Review:
I am without words. Castille has officially left me speechless. I could barely put this one down while reading it and now I can't stop thinking about it.
Castille's raw and to the point writing brings this rough and tumble world to life in such a manner that you not only experience the life, but can also feel the tension and danger that these characters face every day. She doesn't speak of MCs in abstract terms, but rather as if you're part of this world.
Castille writes hot sex and even hotter characters. Jagger and Arianne definitely hold their own in this one. She is the type of character that you want to be, even if you don't want to life the life. Jagger is the ultimate bad boy hero. They're also genuinely nice individuals whose stories make them oh-so-very-real. She also brings the entire MC to life, not just her main characters. I felt like I'd met all the brothers.
This novel was exquisitely real. Castille took me on the ride of a lifetime and I can't wait to get back on it!