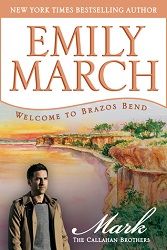 Title:
Mark: The Callahan Brothers/Always Look Twice
Series:
Brazos Bend #3
Author:
Emily March/Geralyn Dawson
Published:
October 17/14 (1st published September 2/08)
Length:
330pgs
Genre:
contemporary romance
Shelf:
borrowed
Rating: ★★★★
Back Cover Blurb:
New York Times, USA Today
, and
Publishers Weekly
bestselling author Emily March invites readers to travel from Eternity Springs to Brazos Bend, the small hometown of the Callahan brothers snuggled deep in the heart of Texas.
Members of Mark Callahan's old military unit are being murdered. To discover who's responsible and why, the former intelligence officer must partner with the only team member more dangerous than he is…Annabelle Monroe, his ex-wife.
Now a private investigator, Annabelle would rather trade her pistol for a slingshot than work with Mark again. But a shattered heart is no excuse to avoid a reunion when lives are at stake.
Together, she and Mark go hunting a killer. Long days and steamy nights make it impossible to deny the desire still burning between them, but the reasons for their messy breakup haven't changed. The bravest man she has ever known is still afraid to risk his heart.
But when the killer's trail leads to Brazos Bend and everything Mark holds dear is at stake, will he finally take the leap? Or will it be too late?
My Review:
What a story! Dawson took me on an adventure alongside her characters. The suspense shone through while the love between the characters was impossible to miss. Dawson's writing throws you right into the fray with her characters, giving you the full impact of this fast paced, suspenseful, yet overwhelmingly emotional tale. It's definitely a fantastic addition to an already great series.
The dynamic between Mark and Annabelle was unforgettable. I love how easily they fit together even if they wanted to deny it. Mark's vulnerability was a direct counterpoint to his strength of character and oh-so-alpha-maleness. It made him so very real. It took me a while to figure Annabelle out. She was a walking contradiction from the start. A very intriguing individual and quite likeable once you get to know her. The supporting cast in this novel was one of my favourites to date. Everyone was so well developed and you really get up close and personal with them. On top of that, they were quite likeable. I loved the fact that no one was perfect but that they were willing to try.
This novel was fully, suspenseful, and packed with heat & chemistry. Dawson has definitely created another winner for her boys from Brazos Bend.