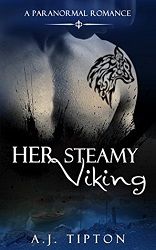 Title:
Her Steamy Viking
Series:
Her Elemental Viking #2
Author:
A.J. Tipton
Published:
August 2/14
Length:
32pgs
Genre:
paranormal romance
Shelf:
review
Rating: ★★★★
Back Cover Blurb:
Bram is an ancient Viking with too strong a conscience to be the blood-stained conqueror his warrior family wants him to be. When his family takes on the wrong witch, he is cursed to be an invisible water wrath. Over one thousand years later he finds himself drifting, lost and alone at the bottom a Scotland loch, waiting for someone or something to end his suffering.
Audrey is a modern-day American witch with a broken heart visiting her family's Scottish cabin for the first time. She came to Scotland to heal her heart, but will her magic touch be her final undoing?
My Review:
Tipton combines ancient lore with sheer imagination in a fantastic manner. She creates a unique story that definitely kept my attention. Her vivid descriptions bring each and every scene to life in a way that is easy to picture. I thoroughly enjoyed getting to know a bit about these two characters. I will admit that I found the ending a bit abrupt, but yet, the story didn't feel unfinished either.
Tipton is one of those rare authors who really capture the essence of short stories/novellas, giving readers a complete & exciting story that they can easily read in an afternoon & thoroughly enjoy themselves.