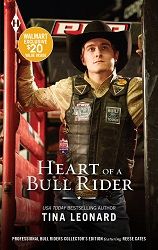 1. With more than 70 books and special projects to your name, how do you create such original storylines and characters time after time?
I love to write! And I love to create. It honestly makes me happy! I can't imagine not writing—I love getting to know readers and other authors, and the adventure is endlessly meaningful to me. So the creative process gets charged by making new friends and constantly admiring my writing sisters' works. If I ever get a little rundown, I head to the beach for two days. It works!
2. You're known for 'sexy hunks with attitude and heroines with plenty of sass.' Do you consider this sass to be a part of your own personality as well?
When I read this question to my husband, he exclaimed, "Yes!" Women are supposed to be intelligent and fun and sassy. We'd be boring if we weren't!


3. You have bull riders as the subject of quite a few of your romance novels. What draws you to this profession?
My teen years were spent in a town where there was a large FFA group. I never wanted to date the football players; I was much more interested in the FFA boys. Many of them were my friends. Several of the guys tried their hand at bull riding. I have a black-and-white photo of one of my boyfriends on a bull in mid-jump. This was before PBR was huge and all the fun that goes along with it now. It was just small-town guys giving it their best shot. I admired that. But I've written about just as many other fields, too, like military heroes. Both my dads were in the military, and all my uncles. I was born on a military base. All my heroes work hard, no matter their profession—my heroes are tough and stubborn, but they're always chivalrous!


4. What inspired you to create the story of the long-lost twins in HEART OF A BULL RIDER?
I thought it would be fun to see what would happen if two completely diverse worlds collided. What would they have in common? Would they be able to relate to each other at all? I liked the idea of the inherent conflict. They had a lot to learn from each other, and about themselves.


5. What upcoming books or projects do you currently have underway?
I've just finished a Hell's Outlaw trilogy for Random House Loveswept, which is releasing in May, and am starting a trilogy for Diversion Books about a magic wedding dress, and lots of small-town angst and drama. And sex. My heroes and heroines fight their attraction to each other, but great chemistry is hard to override.
About the author:
USA Today Bestselling and award-winning author Tina Leonard has sold over 3 million copies of her titles. She has made the USA Today Bestseller, Waldenbooks, Bookscan, and Ingrambook lists, and has written and contracted 71 books and special projects. She is best known for her sparkling sense of humor, endearing communities, snappy dialogue, and memorable characters that include sexy hunks with attitude and heroines with plenty of sass. For more information, visit
www.tinaleonard.com
or follow her on Twitter: @Tina_Leonard.
Praise for Tina Leonard:
"Tina Leonard lets us know we are in for a treat right from page one. Her talent for developing a fast moving storyline with genuinely likeable characters is evident…" –
Fresh Fiction
"Warm characters with devastating wit." –
RT Book Reviews
"Tina Leonard weaves a wonderful story which will appeal to those of us who love contemporary romance." –
AOL Reviews
"The characters are so quirky, very memorable, and I love the continuous humor and banter that goes on in the book." –
Long and Short Reviews
"This heartwarming American romance will leave you yearning for more!" –
Night Owl Reviews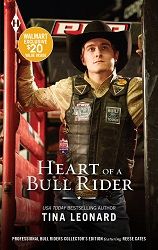 Title:
Heart of a Bull Rider
Author:
Tina Leonard
Published:
April 21/15 by Harlequin
Genre:
contemporary romance
Shelf:
review
Rating: ★★★★
Back Cover Blurb:
When New York billionaire John Carruth is summoned to No Chance, Texas to save the local rodeo he has no idea he is going home. Now the long-lost twin to the town's favorite son is determined to win over the people he left behind—and capture the heart of Chloe Winters, a Texan who has her own ideas of what it means to be part of a small town.
Jake Fitzgerald, champion bull rider, didn't know he had another half. John may be kin, but he's still a stranger in these parts. With his billionaire brother hell-bent on changing Jake's world, Jake knows he has to take a stand. Will he choose family—or will he take a chance on Erin O'Donovan, a woman who has always meant family to him?
About the cover:
The cover features real-life professional bull rider Reese Cates, whose father and grandfather both rode professionally before him. Reese says he was riding horses before he could walk (his mother, aunts and grandmother were all barrel racers). He competes as a part of the Professional Bull Riders, which includes more than 600 bull riders from the U.S., Canada, Brazil, Mexico and Australia. To learn more about Reese, follow him on Twitter: @reesecates. For more information about the Professional Bull Riders, visit
www.pbr.com
.
My Review:
I quite enjoyed this pair of novellas. Leonard has created an entire community that readers get to fall in love with. Life surrounding this rodeo was exciting and wildly romantic. Leonard threw some plot twists in that I wouldn't have never fathomed coming. I love how the two stories in this set combine to give you a complete picture of these two brothers.
I couldn't even imagine finding myself in the situation the main characters in this story did. Worlds collide as we fall in love with two very different yet remarkably similar heroes. Surrounded by the loveable, if misguided, individuals in their hometown you really get a sense of who they are. A sense of extended family & solidarity really shines through. Some of the town people's names definitely made me giggle. Mr. Pickle was simply priceless, both in name & personality.
As a whole, Leonard has created a tale of romance that will be enjoyed by those who enjoy the rodeo & by those who've never experienced one. It is definitely one that is well worth reading.
This special edition novel is available exclusively from Walmart.