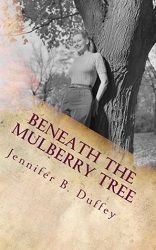 In Search of the Perfect Character by Jennifer B. Duffey
For me, the single most important element in any story is the character development. No matter how well plotted the pace of the action or elaborate the scene descriptions, without strong and believable characters, I will quickly lose interest.
But what makes the perfect fictional character? The answer to that question is as unique as the stars in the sky.
When I think about my favorite literary friends, I'm instantly struck with how real they are. They're not caricatures of the model citizen but rather they're real individuals with flaws and problems. They're emotional and quirky. I can see them as I devour the pages before me. I hear their voices, struggle through their battles, and empathize with their hardships.
I can't forget how fascinating Lisbeth Salander was from her first introduction. She hated society and all the trappings around it, yet she still managed to see something good in Mikael Blomkvist. She was intrigued by him and I was intrigued by her. Not in spite of her flaws and idiosyncrasies but because of them. I was drawn into her pain and wanted to know more. How could someone so young become so hardened? I had to find out.
It's often difficult as a writer to capture that level of realism. The characters we write are the imaginary friends we've played with for ages. We know them well and often want to provide the reader with an abundance of information about how good (or bad) a particular character is. There's an eagerness and excitement when pen meets paper that, if left untamed, can prove detrimental to the overall story.
When I find myself over-sharing information about a character, I try to take a step back a focus on a single event or moment in time. I try to allow my characters to interact with one another and through that interaction examine how he or she feels in that moment. I enjoy exploring their fears and shortcomings. It is an essential component necessary to ground them into the world in which they live.
In the end, literature, as well as life, is only as memorable and the people we encounter. Here's hoping all the characters you meet are fascinating!
And now, for your chance to enter this fantastic giveaway with Jennifer B. Duffey & Beneath the Mulberry Tree!
5 lucky winners will receive a Kindle copy of Beneath the Mulberry Tree by Jennifer B. Duffey (gifted from Amazon).
Contest is open internationally, where applicable by law.
Entries close at 11:59pm May 8/15.
Winners will be drawn May 9/15.
Winners will be notified via email to the email provided to the giveaway and will have 72h to claim their prize or another winner will be drawn.