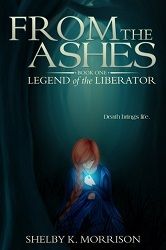 Q&A with author Shelby K. Morrison

Q ~ Can you tell us a bit about yourself?
I'm 25, married and have two dogs. I currently live in Utah but have dreams of moving to Oregon one day. I used to want to be a prosecuting attorney, but after working in a law firm decided that wasn't for me. I adore animals, my favorites being platypuses, pandas, elephants and otters. I have big dreams of visiting Japan, Australia, and England. My top two favorite movies are Hook and Ever After. I love learning new hobbies and DIY projects. In my free time I am studying Japanese. I enjoy rain, have a terrible fear of crabs, and love the theatre, both participating and watching. Anything else you want to know, just ask!

Q ~ If you could have coffee (or tea) with any author who would it be and what would you ask them?

I'd probably share a Cinnamon Dolce Cream Frapp (can you say, yum?) with a couple different authors. It would be a group thing, way more fun and less awkward when I run out of things to say. Invited would be Michael Crichton, because he's been one of the few thriller authors I've discovered who can write something other than cop thrillers. Douglas Preston and Lincoln Child because their writing style is just fantastic and they know how keep the pages turning. George R. R. Martin because with his seriously drawn out books and killing beloved characters, he still manages to hook reader after reader and I want to know the secret to his madness. And J.K. Rowling because she knows how to write a series with intricate pieces that all connect themselves in the end. They all have their strengths that I would like to learn from. Until that awesome day happens, I'll just have to read.

Q ~ How do you think people perceive authors?

That's a hard question. I don't think all people perceive authors the same way. And I think authors could mean many things. In regards to self-published authors, since that is all I know, I think a lot of people roll their eyes and don't value them as much. I feel so many people don't understand what it takes to be an author. They have the world view that being a "published author" means signing a contract with one of the Big 5 houses. But unless you're a writer, you don't know that those publishers give new authors terrible deals, the money isn't all that great, and they only accept what's "in" at the moment. It doesn't matter if you have a fantastic story, characters clawing their way from the page, or a premise that could be a movie. If it's not "in" or "what they're looking for" then boom, rejected. Most people don't know how many times Harry Potter was rejected. Or Lord of the Rings. If Rowling or Tolkien had instead said "Forget you publishers, I'll do it myself" where would they be? Would people judge their book differently because it was self-published? You bet. People don't realize the liberties authors give away when they go the traditional route. They only think "You must have been not good enough to be "really" published." It's pretty shocking when you suddenly realize what people, even close friends/family, think of your work. It's disheartening and insulting and frustrating how little they understand. But I just shrug because I don't really care how people see self-published authors. I see them differently because I know the truth. And I know that we do three or four times the amount of work that the "traditionally published" authors do. And I think we're rock stars.

Q ~ How do you feel about self-publishing?

I feel that self-publishing is beyond liberating. I feel it is the key to a gate that has long been closed. Entertainment is a business where we require someone else's approval. It's ridiculous. And it isn't just based on skill. It's based on image, what's trending, etc. Self-publishing is finally a way for us to be the authors we want to be, send our characters and our stories into the world. I know I stand to not only make more money self-publishing, but I keep my rights to my book, my book stays the way I want, and I remain in complete control. I still, like many writers, and like all non-writers, hold the "traditionally published" on a pedestal in the back of my mind. It acts as some justification of your skill, even when it's not. I think it is only still on that pedestal because of what I said above, about how that's how other people see it. I want to be given a fair chance, and sometimes I think the only way to be given that fair chance is to be traditionally published. But I don't think I'll go that route. Not for a long while anyway. In the meantime, self-publishing is my ticket to achieving my dream. It's insanely hard work, expensive, and I sometimes feel I'm flushing money down the toilet. But when it doesn't feel impossible, it feels amazing.

Q ~ How did you begin writing? Was there a single catalyst or a series of events?
There was no real catalyst. I was just an avid reader and a geyser for creativity. I always needed to be doing something. So I started writing poems, then songs, then I decided one day to try a story. There bloomed my true passion.

Q ~ What's the best thing that's happened since you began writing? The worst?

The best thing that's happened? Easy. I fulfilled my dream. I'm an author. I have readers, not a lot, and not a huge or even small fanbase, but I have readers who enjoy my writing. My book is on people's devices or on their shelves. That's been the most amazing feeling and made all the sweat, blood and tears worth it. There is no greater joy to an author than reading a fantastic review. The worst thing...probably the time away from my husband, family and friends. A writer's life is a solitary one. If we want to produce, we must work, we must keep a schedule, we must lock ourselves away. And that isn't always understood. We're seen as workaholics, loners, and selfish. But I suppose that comes with the territory. Those that truly care, like my husband, understand.

Q ~ When you write, do you lay out a solid outline before beginning, or start writing and iron out the kinks later?

Definitely a planner. I have checklists all over the place. It starts with brainstorming, then an outline, then the various drafts where I require different areas of focus. When I was young I would just go for it. Now I realize that is the opposite of helpful for me. Planning all the way!

Q ~ Why did you choose to write Spec Fiction as your primary genre?
I say Speculative Fiction because I've only published 2 books thus far. One a Psychological Thriller, Shattered, and the newest one, From the Ashes, which is Fantasy. Both, however are speculative fiction because they both have elements of make-believe. Shattered had elements of Sci-fi, so not entirely realistic. I've not been in the business so long to have settled on a primary genre just yet. I only know I enjoy things that aren't like everyday life. I enjoy the wonder. I will always write about something either entirely make-believe, or not quite ordinary. I believe if your reading doesn't take you away, make you imagine things you never thought possible, make you forget your worries, than there is little point in reading it. Books are a place of wonder, imagination and freedom. And so is writing. I think Spec Fiction let's me be a writer, let's me be the creative wordsmith I love being.

Q ~ Can you tell us a little bit about your latest release From the Ashes and what inspired you to write it?

From the Ashes has the bones of a story I wrote many years ago. Very little remains, and only my brother will realize it, but I still hold the original in my heart. It just needed to be polished, fleshed out. It was so long ago I don't quite remember the inspiration. I just remember it all starting with a necklace. And what if a necklace could connect you to someone?

Q ~ What is your favourite part or scene in the novel?
My favorite scene is when Aia is attacked at one moment. I won't go into detail to not spoil it, but her strength really comes to light. She may or may not use her bow and arrow to kick some serious butt. You'll know the scene when it comes.

Q ~ From The Ashes is the first novel in your new series. Can you tell us a bit about what we can expect from the rest of the series?

From the Ashes is the catalyst to the Legend of the Liberator series. It kicks off the whole story. The series name should tell you what to expect from future books. It covers Aia's journey, her story into becoming a hero, a legend, a liberator. Life for her kind will get even more rough before day breaks.

Q ~ Do you have a favourite character (or two) in your latest series? What is it that draws you to them?

I haven't introduced all the characters of the series just yet, but my favorites are Aia and Cole at this point. They are the two POV's/hereos that From the Ashes follows. I have a suspicion I will really love a character in Book Three, but that remains to be seen. But all of my characters are very passionate, which is drawing all on its own. Aia draws me to her because she is so strong, inside and out. She is so determined. And yet I know she's hurting inside, I know she puts on a brave face. She looks out for the little guy. Cole draws me to him because of his fierce loyalty. He demands so much of himself, but doesn't deny he has weaknesses. I love watching these two overcome their faults and watching them shine in their strengths. They make an excellent pair.

Q ~ Do you have anything in the works at the moment? Care to give us a hint about it?

Book Two, Among the Flames is currently being written. If I hint, it will spoil From the Ashes. But let's just say things get bumpier. I'm enjoying it even better than From the Ashes. I hope to have it ready by the end of 2015. So you won't have to wait long!

Q ~ If you could give aspiring authors one piece of advice, what would it be?
Don't give up. Period. Ignore what people say, ignore the media, ignore articles with statistics and odds. Don't think about the money. Think about the writing. Just keep writing and writing and writing. You'll get better. And you WILL have fans. The only thing preventing you from being the author you want to be is you. Don't let people get you down. Just write.

About the author:
Shelby K. Morrison is the author of Shattered, devout member of the Pointless Research Addicts support group, and was voted Most Likely to Be President in high school. She believes fiction should be an escape and any great escape involves a world of wonder, characters you wish you knew, and good food. She can usually be found in three places; her office, the couch or....well just those two unless an overcast day calls her out of doors. She has a particular weakness for animals, Studio Ghibli movies, and Flamin' Hot Cheetos (resulting in a frequently stained keyboard). She is not opposed to tokens of appreciation, particularly edible ones. But if you really want to make her smile, drop her a line!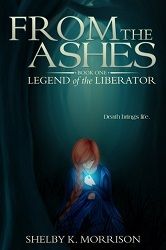 Title:
From the Ashes
Series:
Legend of the Liberator #1
Author:
Shelby K. Morrison
Published:
May 3/15
Genre:
YA fantasy
Shelf:
review
Rating: ★★★★
Back Cover Blurb:
For eighteen years Aia Wynnald has lived a lie. Raised as a highborn in the Kingdom of Tharien, she's filled her days with tutors and archery lessons. But simmering beneath her polite surface is a dangerous gift, one which she must keep a secret. Aia is a Bender. And in Tharien, Benders are feared and hunted.

When her unruly power breaks free with dire repercussions, Aia's lifelong goal of independence shatters. As she scrambles to piece her life back together while evading capture, she disturbs a vengeful force intent on destroying the kingdom.

Now, with the help of an unlikely ally, Aia will decide the fate of Tharien. To rescue those she cares about will require accepting what she is. But can she risk becoming the monster she's dreaded to save the very citizens baying for her blood?
My Review:
Morrison's well written & polished style brings this story to life. The easy way in which she draws readers into her world creates a fantastic backdrop for her wonderful story. The world itself is intricately crafted, giving readers the full experience. The story itself was fast paced with many twists and turns along the way.
Well developed, strong characters rule the day in this novel, even if they do so in a way that we wouldn't necessarily choose for ourselves. Their strength of character makes them someone that you want to emulate, and someone that most can easily identify with.
This is definitely one of those YA novels that readers of all ages will enjoy. Morrison has crafted a world what will be a fantastic backdrop for her entire series.