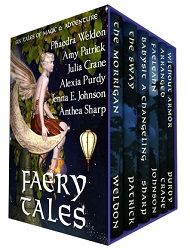 Title:
Faery Tales - Six Tales of Magic and Adventure
Series:
Faery Worlds #3
Author:
Phaedra Weldon, Anthea Sharp, Jenna Elizabeth Johnson, Alexia Purdy, Julia Crane, Amy Patrick
Published:
May 17/15 by Fiddlehead Press
Length:
444pgs
Genre:
YA Fantasy
Shelf:
review
Rating: ★★★★
Back Cover Blurb:
*All new, exclusive stories!*
Six brand new tales of adventure, love, and treacherous fey magic from six award-winning, bestselling authors. Enter these fantastical realms where dark powers lurk and the ordinary world can be transformed in a heartbeat to a place of wonder—and danger. From the hidden fae folk dwelling among mortals to the challenges of babysitting a malicious fairy, these tales will cast their enchantment over you!
THE MORRIGAN – Phaedra Weldon
Irish folklore student Tam Kirkpatrick finds himself the focus of dark Faery forces intent on stealing his shillelagh. The catch is—Tam never knew he had one, let alone that he was the son of a Leprechaun. Now he must find his shillelagh and claim his heritage, before it's too late.
THE SWAY – Amy Patrick
A member of the Dark Court, Vancia has spent her life among humans—together but separate, hiding in plain sight. Now Pappa says it's time to put her glamour to use against the unsuspecting humans and worse, agree to an arranged political marriage with the reclusive Light Elven prince.
HOW TO BABYSIT A CHANGELING– USA Today bestselling author Anthea Sharp
When a mortal boy is exchanged for a hideous faerie creature, Marny Fanalua steps up to help her friends in their battle against the Dark Court.
*NOTE * The events in this novella occur simultaneously with Feyland: The Twilight Kingdom. Reading the complete Feyland Trilogy first is recommended if you would like to avoid spoilers.
FAELEAHN – Jenna Elizabeth Johnson
Meghan and Cade are ready to pledge their souls to one another in a traditional bonding ceremony of Eile. While sharing their news with friends, the faelah bounty hunter and the princess of Erintara grow even closer as their love is reflected back to them by those they hold most dear.
*NOTE* The events in this novella take place after the conclusion of Luathara, the third book in the Otherworld Trilogy. If you wish to avoid spoilers, you might want to read the first three Otherworld books (Faelorehn, Dolmarehn and Luathara) before reading.
ARRANGED – Julia Crane
Magick's been restored on earth but it comes at a crippling price. With the planet on the brink of destruction, an unlikely pair must work together to try to bridge together a lifetime of hatred. Will their forbidden romance bring their worlds together or tear them apart?
WITHOUT ARMOR – Alexia Purdy
The Unseelie are up to no good… My name is Benton, and I hunt the darkest of creatures in existence. Especially when they get unruly and try to invade my home, the human realm. Betrayal, broken hearts and uncharted magic…I never saw it coming.
My Review:
This is definitely a winning anthology for YA fantasy lovers. I love the different worlds that these authors develop and take you to. You'll be living in Technicolor while enjoying these fun filled and imaginative stories. The characters come to life so that you can really get to know them. And the entire collection is so well written. Each author's individual style really shines through. I enjoyed all of the stories in this anthology. But I've got to say, the Feyland novella has left me stoked for the upcoming summer release in the series! Not only did I enjoy these stories and characters individually, but combined they made a captivating anthology that was the perfect escape from reality.
If you like one or two of the authors in this anthology, it's a great way to get your hands on their works while experiencing some fantastic writing by other authors. And if you're a YA fantasy lover who's never read any of these authors yet, it's the perfect way to delve into these worlds.