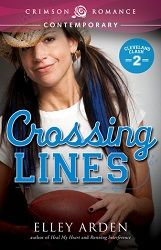 Title:
Crossing Lines
Series:
Cleveland Clash #2
Author:
Elley Arden
Expected Publication:
May 25/14 by Crimson Romance
Length:
192pgs
Genre:
contemporary romance
Shelf:
review
Rating: ★★★★★
Back Cover Blurb:
Party girl and standout wide receiver Jillian Bell sees no problem with her "no rules" lifestyle as long as she's scoring on the field. But her sexy new offensive coordinator doesn't see it that way.
Former marine turned successful restaurateur Carter Howl agreed to whip his father's undisciplined women's full-tackle football team into shape out of guilt. But the job comes with more trouble than he bargained for thanks to one spitfire of a wide receiver who challenges his every play.
When Jillian's little sister begs her to come back to their small-minded hometown and be on her best behavior at a family event, she unexpectedly enlists prim and proper Carter to help her keep her cool. But two days and one pretend engagement later, this straight-laced former soldier is doing all sorts of things he normally wouldn't. Is the wrong girl the right girl for him?
My Review:
Arden has definitely done it again. She has penned a novel that will stand up against the best of the best. The wildly romantic (and at times steamy) relationship between the two main characters is so genuine that you can't help but get caught up in it. She also brings in some intriguing outlooks on life and conforming to what others expect that made it all the more interesting. Arden's intricate descriptions, that are wound up in her upbeat narrative, bring this world to life in such a vivid manner that you feel as if you're experiencing it all with the characters.
Arden has created a cast of characters that not only carried this novel forward with a flair rarely seen, but who also hold a piece of my heart long after the story is over. This is the mark of fantastic character development. These individuals became so real for me that I not only don't want to let them go, but truly can't. There were times when I wanted to curl up in a ball and cry right alongside Jill. Others when I wanted to fight her fight with her. Carter's situation put him between a rock and a hard place, where he needed to discover what he really wanted before he could go for it. Their situations were the same yet so very different that I couldn't help but draw parallels and comparisons. The supporting cast was also uniquely crafted. The lack of support that these two had made them shine all the more brightly.
Arden never fails to create wonderful tales that capture your heart and your imagination. This novel is no exception. It was a fantastic, heartfelt novel that held me throughout.