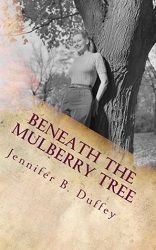 Title:
Beneath the Mulberry Tree
Author:
Jennifer B. Duffey
Published:
January 28/15
Length:
220pgs
Genre:
contemporary fiction
Shelf:
review
Rating: ★★★★
Back Cover Blurb:
Jimmy Watson dreamt of retiring to a small farm in the country. After a lifetime of building a successful business, his dream becomes a reality. He has traded in the stress of meetings and deadlines for the calm of grazing cows in a noonday field. So when he becomes plagued with a series of nightmares, he must decide between his peaceful life and a path he cannot understand. It's a choice that will eventually lead to the most important question any man must face - which is greater, life or love? Will he choose tranquility or unimaginable pain? The answer is Beneath the Mulberry Tree.
My Review:
This is a well and intricately written novel. Duffey's eloquent prose drew me in to the brilliantly fantastic world that she's created. She transports readers to the south with her low key yet vivid descriptions. Emotions run high throughout this tale, creating a direct connection with the characters. Duffy's down to earth writing is a novelty that added yards to the enjoyability of this novel.
The characters in this novel have gripped my heart. I thoroughly enjoyed getting to know them. Their plight is similar to those suffered by oh so many others that you can't help but identify with them. The realities are absolutely unforgettable. Not to mention the fact that they are very well developed and likeable individuals in their own right.
Duffey's novel was both thought provoking and emotionally satisfying. This is a fantastic novel that I wouldn't hesitate to recommend to others.
And now, for your chance to enter this fantastic giveaway with Jennifer B. Duffey & Beneath the Mulberry Tree!
5 lucky winners will receive a Kindle copy of Beneath the Mulberry Tree by Jennifer B. Duffey (gifted from Amazon).
Contest is open internationally, where applicable by law.
Entries close at 11:59pm May 8/15.
Winners will be drawn May 9/15.
Winners will be notified via email to the email provided to the giveaway and will have 72h to claim their prize or another winner will be drawn.