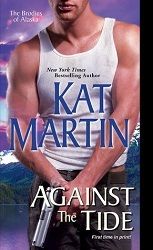 Title:
Against the Tide
Series:
The Brodies of Alaska #2
Author:
Kat Martin
Published:
May 26/15 by Zebra/Kensington
Length:
400pgs
Genre:
romantic suspense
Shelf:
Netgalley
Rating: ★★★
Back Cover Blurb:
Secrets—and safety—melt under a midnight sun…
Liv Chandler is running for her life, and the cops haven't been able to do a thing to help. But there's one man who makes her feel safe, no matter what…rugged charter boat captain Rafe Brodie.
To Rafe, Liv is a beautiful mystery, one he can't ignore. He means to unearth her secrets, and in the process, if luck is on his side, maybe the spark between them will ignite.
But Liv's past is more dangerous than Rafe could guess, and when his first mate turns up dead, she fears that she's next. That there's something else coming she can't see. That even Rafe and the remote village of Valdez, Alaska can't protect her forever…
My Review:
This was a polished, enticing read that I was quite excited about. Martin brought Alaska to life in a big way that really allowed me to experience it alongside her characters. It was emotionally turbulent from beginning to end. Martin developed a low-key suspense that really packed a punch. I found this novel quite enjoyable, but the pace was a bit slow. Until the end, of course, when it raced forward. It was a great read but for me was missing that 'can't put it down' quality.
Olivia is a very linear character who wants everything to fit into neat boxes. Life just doesn't work that way so she takes to avoiding things that don't conform for her. Paired with Rafe, who goes for exactly what he wants, readers are in for some intriguingly comical and extremely romantic moments. These two were actually a real joy to get to know. The parallels between Liv's past & present lives add a lot of context to the story as a whole.
Overall, this was an enjoyable read that I'm definitely glad to have read. Martin brings Alaska & suspense to life in a big way, along with some explosive romance.