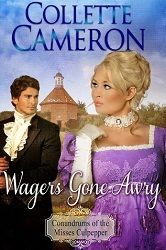 Title:
Wagers Gone Awry
Series:
Conundrums of the Misses Culpepper #1
Author: Collette Cameron
Published: March 30/15 by Blue Rose Romance in cooperation with Windtree Press
Length: 175pgs
Genre: historical romance
Shelf: review
Rating: ★★★★★

Back Cover Blurb:
Brooke Culpepper resigned herself to spinsterhood when she turned down the only marriage proposal she'd likely ever receive to care for her family. After her father dies, a distant cousin inherits the estate and becomes their guardian but permits Brooke to act in his stead.
Heath, Earl of Ravensdale is none-too-pleased to discover five young women call the dairy farm he won and intends to sell, their home. Desperate, pauper poor, and with nowhere to go, Brooke proposes a wager. His stakes? The farm. Hers? Her virtue. The land holds no interest for Heath, but Brooke does and he accepts her challenge.
Brooke loses, and her devastation is compounded when the cousin arrives, intending to haul the Culpepper misses off to London. Heath astounds himself and proposes in order to apply for guardianship of the other girls.
Does Brooke dare marry the handsome stranger who'd been bent on compromising her? Will Heath regret his impulsive gesture, or will unexpected love flourish?
My Review:
Cameron's writing sets the tone and the scene of this story perfectly. She develops the world for her readers, without taking away their ability to imagine themselves into the story. I love the fact that this Regency romance doesn't take place amidst London's ton scene, but rather in a rural setting. This twist causes more plot twists than readers could fathom, while still remaining true to the regency romance genre. I love the unique feel of the novel combined with the real romance within. This novel doesn't careen around at a breakneck pace, nor does it stagnate. Everything pieces together perfectly.
The characters in this novel and their interactions with one another make this novel even better. The main characters are a hoot. Not only is their romance sweeter than anything I can remember seeing in a regency romance, as individuals they're amazing characters. It floors me how this author has thrown convention to the wind while developing these two without actually going outside the bounds for the time period in question. They are such unique and caring individuals that you can't help but love them. I love how Cameron develops more than just the main couple for readers to get to know intimately. One thing I will comment on, however. I'd love to know exactly what happened to Cousin Sheridan. I assume I know, but it wasn't spelled out for the reader. In all honesty, it's neither here nor there with respect to the plot and Sheridan is a slimy eel, it's more for curiosity's sake.
Ok, it's confession time. This novel caused me to burst into tears in the lunchroom at work. It's fraught with emotional upheaval & this novel may be emotional, but it's also extremely comical. And I love the fact that I have a suspicion as to who's story comes next. Can't wait! My final thoughts boil down to this: Read it! Read it! Read it! If you enjoy romances at all, this is a must read novel.