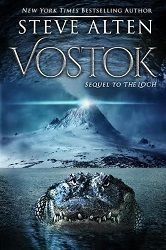 A quick Q&A with author Steve Alten


Which was the hardest character to write?
Kwan Wilson in SHARKMAN. He's a paraplegic. I spent time interviewing a neighbor who was also wheelchair bound.

Where do you get inspiration for your stories?
TV, newspapers, dreams…

How long have you been writing?
Since I was 35, twenty years.
Is there a specific ritualistic thing you do during your writing time?
Not really.

Favorite dessert?
Dark chocolate raisins.


Any hobbies?
I used to play drums…until I was diagnosed with Parkinsons eight years ago and my wrists became too rigid.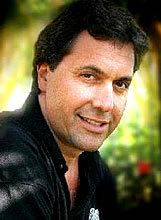 Author's Bio:
Steve Alten is the New York Times and International bestselling author of fourteen novels, including the MEG series about Carcharodon Megalodon, the 70-foot, 100,000 pound prehistoric cousin of the Great White shark and Domain trilogy, a series about the Mayan Calendar's 2012 doomsday prophecy. His work has been published in over 30 countries and is being used in thousands of middle and high school curriculum as part of Adopt-An-Author, a free teen reading program, which he founded with teachers back in 1999.
Connect with Steve:
Website
~
Facebook
~
Twitter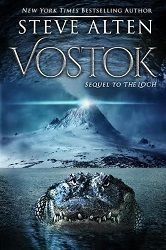 Title:
Vostok
Author:
Steve Alten
Published:
February 17/15 by Rebel Press
Length:
386pgs
Genre:
thriller
Shelf:
review
Rating: ★★★★★
Back Cover Blurb:
East Antarctica: The coldest, most desolate location on Earth. Two-and-a-half miles below the ice cap isVostok, a six thousand square mile liquid lake, over a thousand feet deep, left untouched for more than 15 million years. Now, marine biologist Zachary Wallace and two other scientists aboard a submersible tethered to a laser will journey 13,000 feet beneath the ice into this unexplored realm to discover Mesozoic life forms long believed extinct and an object of immense power responsible for the evolution of modern man.


My Review:

This novel is packed full of adventure, suspense and unforgettable discoveries that will all leave you breathless. Alten's descriptions and narrative easily transport readers to the most hostile terrain on earth. The scientific bent of this novel was so interesting. I can't stop thinking about the possibilities. The technical nitty gritty of the story made it oh-so-real. I was so caught up in the story that I was repeatedly late for things because I lost track of time.

The main character of the novel tells his story in a very stratingforward and personal way, allowing you to feel like you're talking with him. I absolutely loved the way that we get to know him. Alten takes us in to the various choices his main character can make and the outcomes. Learning about him via his discoveries and approaches to puts everything into perspective. Those that he surrounds himself with also add to this. The supporting cast definitely fills out their respective roles in the novel well. Alten develops each for a certain purpose, without leaving readers feel like there's nothing more to the characters. Nationalities and personalities are all well developed. The dialogue and accents were spot on, truly enhancing the story.

This is one of those novels that I can't sum up in a few paragraphs. It's an unforgettable novel that is a must read for one and all. And to answer a couple of other questions about it: Can you read this novel without having read its prequel, THE LOCH? Definitely. This easily reads as a standalone. Will I be going back and reading it anyways (along with the tie in to Alten's MEG series)? Hell yes!
Be sure to enter this fantastic tour wide giveaway before you go!