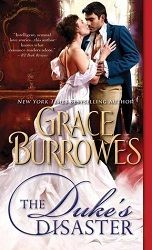 Title:
The Duke's Disaster
Series:
True Gentlemen #0.5
Author:
Grace Burrowes
Published:
April 7/15 by Sourcebooks Casablanca
Length:
384pgs
Genre:
historical romance
Shelf:
Review
Rating: ★★★★
Back Cover Blurb:
Noah Winters, Earl of Anselm, spent months sorting and courting the year's crop of debutantes in search of an ideal bride. When the sweet, biddable young thing he selected accepts another's proposal, Noah decides to court her companion instead.
Thea Collins, though, is anything but biddable. She has learned the hard way that men are not to be trusted, especially the handsome ones. When she reluctantly accepts, Noah rushes Thea to the altar before she can reveal her deepest secret. Can she finally move on from her past, or will it come back to haunt her?
Author Biography
New York Times
and
USA Today
bestselling author Grace Burrowes' bestsellers include
The Heir, The Soldier, Lady Maggie's Secret Scandal, Lady Sophie's Christmas Wish
and
Lady Eve's Indiscretion
.
The Heir
was a
Publishers Weekly
Best Book of 2010,
The Soldier
was a PW Best Spring Romance of 2011,
Lady Sophie's Christmas Wish
won Best Historical Romance of the Year in 2011 from RT Reviewers' Choice Awards,
Lady Louisa's Christmas Knight
was a
Library Journal
Best Book of 2012, and
The Bridegroom Wore Plaid
was a PW Best Book of 2012. Her Regency romances have received extensive praise, including starred reviews from
Publishers Weekly
and
Booklist.
Grace is branching out into short stories and Scotland-set Victorian romance with Sourcebooks. She is a practicing family law attorney and lives in rural Maryland.
Excerpt:
The Duke and Duchess are having a rocky start to their marriage, also to their day…
"Your tea, Duchess."
Noah had woken up beside his wife—again, despite all plans to the contrary—creating another first for him. Thea had risen several times during the night to tend to herself. He hadn't realized that monthly courses caused a woman's rest to be interrupted.
Crashingly bad planning, for a lady's sleep to be disturbed when she most needed rest.
"You're not about to steal my tea?" Thea held out the cup, her gaze shy as she sat propped against the headboard.
"Where's the fun in stealing what's freely offered?" Noah settled in beside her and filched a bite of her cinnamon toast. "Would you rather have chocolate this morning?"
"Because?"
"You're"— Noah waved a hand in the direction of her middle—"indisposed."
"I am not indisposed." Thea set her teacup down with a little clink. "The discomfort has passed, as it always does. You needn't be concerned."
"I am not concerned, Thea." Not greatly concerned, now that she'd stopped ordering him to go away and was ready for a proper spat. "I am attempting in my bumbling way to dote. You will allow it."
Drat. He'd given another order.
"You couldn't bumble if one gave you written instructions, Anselm," Thea said, looking a little less peaked for having run up her flags. "That was my toast you appropriated."
"Appropriation is what happens when one's wife can't appreciate a little doting. You're being stingy with the tea, just as you were stingy with the covers. How long does this indisposition last?"
Her chin came up. "I am the Duchess of Anselm. I am not stingy with anything, but you are a very presuming husband."
"Doting." Noah took Thea's free hand to kiss her knuckles— lest she mistake his point. "Also in need of my duchess's guidance on this one marital matter."
"This is so personal." Thea's gaze was on their joined hands— for Noah would not have her haring off in a fit of mortification. "I didn't think you'd be a personal sort of husband. You were supposed to appear in my dressing-room doorway a few nights a month, silently take a few marital liberties, and then leave me in peace. We'd trade sections of the Times over breakfast the next morning."
"Prosaic." Boring and exactly what Noah himself had envisioned. "Hard to see any doting going on, though."
"Husband?" Thea's tone was hesitant. "Thank you, for keeping me company last night. I would not have known how to ask."
"I suppose that's the definition of doting." Noah lingered at the cart to assemble a plate. "It's the little things you can't bring yourself to ask for, that an attentive spouse will enjoy providing to you. Bacon or ham?"
"A little of both, please."
"Feeling carnivorous?"
"I'm a trifle indisposed. I need the sustenance."
Noah piled both ham and bacon on Thea's plate, and stole better than half of it, because he needed the sustenance too.
My Review:
This was such an enchanting novel. Burrowes writes with the same approachable, intricate style that we've come to know and love her for. She takes readers back in time through her fascinating narrative. Her descriptions bring each and every aspect of this world to life. The intriguing plot definitely takes readers from point A to point B, but the journey was a blast. Burrowes makes the unexpected, expected, keeping readers on their toes.
The characters were well developed & a blast to get to know. Not only were they periodically correct, they stepped slightly outside the box. They made me laugh more than once. It was so nice to see a pair of characters who were out of the ordinary without being completely abnormal. Their relationship also started out in an intriguing manner, but the developed gradually, which was a nice change.
This is definitely a great start to Burrowes' new series. She easily transports readers back in time to experience the romance of a lifetime.
Enter this fantastic tour wide giveaway with Grace Burrowes & Sourcebooks Casablanca.