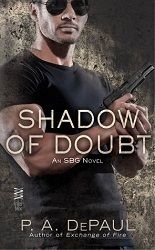 Title:
Shadow of Doubt
Series:
SBG #2
Author:
P.A. DePaul
Published:
April 21/15 by InterMix
Length:
428pgs
Genre:
romantic suspense
Shelf:
Netgalley
Rating: ★★★★
Back Cover Blurb:
When her secretly filmed tryst shows up on the internet, Michelle Alger goes on the run. She has no choice. Not only was her one-night stand the son of a US senator, but he's been murdered—and she's the number one suspect. With both the senator and an avenging drug lord on her trail, her life is in danger. There's only man she can trust. He saved her once, but will he still be her hero six years later?
Captain Jeremy Malone and the rest of Delta Squad have the senator's order: find the mystery woman who killed my son. But to Jeremy, she's no mystery. Six years ago his team of Green Berets rescued her from the torturous clutches of a Colombian cartel, and he's never forgotten her. His personal and covert mission: find Michelle before anyone else. When he and Michelle do meet again, the sparks are explosive and consuming. They're also dangerous as hell.
Because with each new bit of evidence, Jeremy suspects that Michelle's innocence may be a ruse—a beautiful trap set by a woman who has even more secrets yet to bare.
My Review:
This novel was fast paced & action packed throughout. DePaul maintains her fast forward pace throughout, giving readers both intensely dangerous and suspenseful scenes as well as sweetly romantic & wildly heated ones. The plot was well thought out and easily believable while also being outside the realm of the everyday for most individuals. She had me on the edge of my seat more than once, and I was always trying to figure out who was behind it all.
The main characters in this novel were actually quite intriguing. Both had very complex and difficult pasts, and were fighting in the here and now. That said, they were such different individuals who easily stood up on their own. I enjoyed Cappy's mix of sensitivity and all-alpha persona. Michelle's battle with her demons was heartbreaking, yet reassuring at the same time. It was amazing to see how far she'd come. And DePaul developed this all in such a realistic manner that it was easily believable. These characters really shone, especially when placed against the backdrop of the secondary characters. Don't get me wrong, everyone was well developed and could easily become the main character in their own story, but the contrasting personalities and views really made Cappy & Michelle stand out.
As to whether or not this can be read as a standalone, well, that's actually a complex question. The story is contained in and of itself. All of the information required to enjoy it is contained within the pages of the novel. That said, the dynamic within Delta Team is developed in and carried over from the first novel in the series. For the full impact, readers would benefit from having read it first, but as I said, it's not strictly necessary.
Overall, this was an extremely enjoyable, endlessly entertaining novel. DePaul takes readers on a suspenseful, action packed adventure in the lives of two characters whose love really shines through.