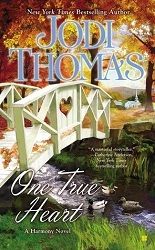 Writing One True Heart, a guest blog by Jodi Thomas
Welcome to ONE TRUE HEART. Like waiting for fine chocolate, this book is one you will not want to miss. For me the story is always about the people and I loved writing this story.
This story started at a real place I know well, the Amarillo airport where one night a man and a woman meet by accident. She's exhausted and on crutches. He offers her a ride to Harmony. She's a trained soldier and sees this professor type in glasses as no threat. Only, while she sleeps, he steals a kiss.
When he drops her off at Winter's Inn, the bed and breakfast, the inn keeper thinks he's staying the night. For the first time in years, Drew is tempted to get involved.
As books often do, this story didn't come to me as a thread; it came to me as a ball of multi-color yarn. All of us live lives that are intertwined with those we love or fear or even hate. All of us are looking for one true heart. Some of us settle for less or even give up on finding what we're looking for, but the people we meet and love all add a depth to us. In ONE TRUE HEART I wanted to show that sometimes loving can win out.
I have three heroes in my story. Drew has risked his life once and almost lost it, shattering his dreams. Johnny thinks his dreams are small and is shattered and angry that even his simple dreams can't come true. Beau, on the other hand, has always dreamed big, but somewhere in climbing the ladder to success he's lost sight of love.
As the story opens, all three are about to find a kind of love they never dreamed could happen. The only hard part is going to be hanging onto it.
To all my friends and fans, make a cup of tea, or a glass of wine, curl up in your favorite chair and open ONE TRUE HEART. I promise I'll leave you smiling as you read.
Jodi Thomas is the NY Times and USA Today bestselling author of 41 novels and 13 short story collections. A five-time RITA winner, Jodi currently serves as the Writer in Residence at West Texas A&M University in Canyon, Texas.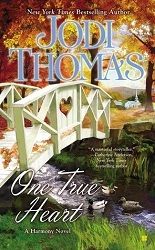 Title:
One True Heart
Series:
Harmony #8
Author:
Jodi Thomas
Published:
April 7/15 by Berkley
Length:
336pgs
Genre:
contemporary small town romance
Shelf:
review
Rating: ★★★★
Back Cover Blurb:
New York Times bestselling author Jodi Thomas takes us back to Harmony, Texas—a small town where love blooms and secrets of the past threaten to alter the future…
Millanie McAllen is always logical. But after returning to her childhood home, she learns that some things are beyond explanation—like her undeniable passion for Drew Cunningham…
After finding success as a singer on the road, Beau Yates returns to Harmony to make peace with his dying father—only to find the woman he's been dreaming of for years. But the secrets they discover might be too much for him to bear…
When Johnny Wheeler is charged with his wife's murder, he turns to the only person who believes he's innocent. Fortune teller Kare Cunningham's life has always danced around reality—but Johnny is able to ground her like no other…
As their paths cross in new, captivating directions, the townspeople of Harmony need to learn to love and let go in order to live together in their little slice of heaven.
My Review:
Thomas has returned to Harmony with a tale that will keep you guessing. She melds budding romance with the realities of life & throws in a side of suspense to keep you on your toes. This novel caused me to both spontaneously burst out in laughter and tears. I cheered in triumph and gasped in horror. Thomas' descriptions and narrative bring this small town to life in a big way.
Drew is a completely multifaceted character. The complexity of his character really heightened my enjoyment of this novel. He was a hero, an academic, a brother, a friend, and oh, so much more. At the same time, he was so very real. Millanie's character was a poignant counterpoint to this. Her very militaristic outlook on life gives readers a much different perspective on the world. I loved Kare & Johnny. These two were so much fun. I enjoyed getting to know the stories of multiple characters. They all wind together, giving readers a broader picture. One common thread through many of the characters & their lives – secrets. I was amazed at how many secrets these individuals kept from those they love, and how easily their loved ones unravelled them. This just reinforced the notion that absolutely no one is perfect, but we're all real & worth the effort.
As a whole, this was a thoroughly enjoyable novel. It can easily be read as a standalone or as part of the fantastic Harmony series. Thomas drew me in to her world & allowed me to escape from reality in these pages.