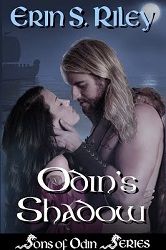 Title:
Odin's Shadow
Series:
Sons of Odin #1
Author:
Erin S. Riley
Published:
November 28/13 by Erin S. Riley
Length:
308pgs
Genre:
historical romance
Shelf:
review
Rating: ★★★★
Back Cover Blurb:
Obsession. Treachery. Revenge. Redemption. Certain themes resonate across the centuries.
Odin's Shadow is the first book in a series of three about a young Irish woman and the two Viking brothers who love her. The novel is set against the harsh backdrop of the Viking era in the 9th century, a time when the sight of a Viking longship sailing up the coast of Ireland would chill the blood of any man, woman or child. One young Irish woman, however, is not afraid of these Northmen, and a fateful encounter with one of them changes the course of her life forever.
Selia is a girl on the verge of womanhood, frustrated by the confines of her gender and resentful of the freedom her brother boasts of. She is intelligent and resourceful in a time when neither is valued in a female, and longs for an escape from her sheltered existence. Selia is fascinated by the tales of Viking raids told by her maidservant, and her hunger for independence is fed through the stories of heathen ferocity she hears at the woman's knee.
A decision to sneak to the city's harbor to view the Viking longships leads to an encounter with Alrik Ragnarson, a charismatic Viking warlord whose outward beauty masks a dark and tortured mind. With the knowledge that her father is about to announce her betrothal to a man she doesn't love, Selia marries Alrik and within a day is on the longship bound for Norway and a new life.
As Selia's relationship with her new husband grows, her friendship with his brother Ulfrik grows as well. The tension mounts between the two men, and as Alrik's character flaws come to light Selia begins to have misgivings about her hasty marriage. Ulfrik's desperate love for Selia causes him to reveal a secret from the past that threatens to destroy them all, and Selia is left to make a heart rending choice between the two Viking brothers.
Excerpt:
Selia heard the rustle of footsteps behind her and turned to scowl at Eithne. "I'm going as fast as I can—"

She stopped in mid sentence. It was the Finngall from the hill, not Eithne, who was coming toward her. The sheer size of the man was startling in and of itself, and the way the morning sun glinted off his pale hair and the breeze stirred his deep red cloak around his body made him appear not quite human. Almost like one of the heathen gods the Finngalls worshipped. She stared, unable to move or speak. It was all she could do to force herself to breathe.

The Finngall met her gaze and smiled. He had a beautiful smile—a flash of white teeth and a boyish dimple on his left cheek—but like yesterday, something about it struck her as unusual. What was it?

His smile didn't reach his eyes. His eyes looked hard.

About the author:

Erin S. Riley has an undergraduate degree in psychology and a graduate degree in clinical counseling. She is also a board certified lactation consultant and has had extensive training in maternal-child health. Since Erin was a child, she has been fascinated with human nature and what motivates behavior. She enjoys writing stories that reflect real life: Erin's books feature complicated, imperfect characters who love deeply, make reckless decisions, and try again until they get it right.

A lifelong lover of books, Erin taught herself to read at the age of four and hasn't been without a book since. She is an equal-opportunity reader of fiction and non-fiction, and her shelves are filled with books on psychology, archaeology, anthropology, and general history. The social history of women and their place in society across the ages is a favorite reading topic of Erin's.

Erin is drawn to any creative pursuit, from making hand-stitched quilts to producing mini-movies for family and friends from home videos. But writing has always been her passion. When Erin isn't writing, she enjoys spending time with her two wonderful children, reading anything she can get her hands on, watching football, and renovating her house with her husband of 17 years who just happens to look like a Viking!


My Review:
This is an action packed historical romance that I definitely took notice of. Riley develops her plot in such a manner that readers become invested in the plight of the main characters. I appreciated the fact that things weren't easy for them, but neither did we find a 'Romeo & Juliette' tragedy looming. The history behind the setting is sound. It's not a textbook. It's accurate to the point where Riley takes creative licence with it to create her fictional tale. I thoroughly appreciated that. I did find Riley's writing to be choppy at times. It broke up the flow of the story. That said, it also allowed me to take a closer look at Riley's intriguing characters. Riley brought her world to life in a vivid manner that allowed me to picture each aspect of it.
The intrigue amongst the characters is what held me most captive throughout. Right up until the end I was trying to guess what side of the fence certain characters stood on. It was great. The character development was in-depth without going overboard. I appreciated the staggered character development. Not only does Riley not bombard readers with loads of information all at once, rather allowing us to get to know the characters gradually, main characters are much more developed than the minor characters, allowing for a great contrast.
As a whole, this was a great read. Riley takes historical romance and makes it her own with her intriguing Vikings.