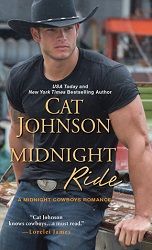 Title:
Midnight Ride
Series:
Midnight Cowboys #1
Author:
Cat Johnson
Published:
April 28/15 by Zebra
Length:
368pgs
Genre:
contemporary romance
Shelf:
Netgalley
Rating: ★★★★★
Back Cover Blurb:
One bucking bronco…
Oklahoma ranch hand Tyler Jenkins is too young, too sexy, and too damn wild to be tied down by any single woman—for more than a few steamy hours…
One hard-working widow…
Widowed rancher Janie Smithwick is too busy paying off her debts to play rodeo with a reckless young cowboy like Tyler—no matter how hot he gets her…
One midnight ride they'll never forget…
As a rule, Janie should be dating a man her own age, like her handsome neighbor Rohn—not the twenty-four-year old ranch hand he employs. But once Tyler gets Janie alone—held tight in his arms, pressed against his hard muscled body, burning with desire—the widow realizes that some rules, like broncos, are meant to be broken…
My Review:
This was a very captivating novel. Johnson caught my attention with her fantastic cast of characters and held it with the unforgettable story. Love and loss vie with happily ever after to hold you. And you can't miss the multiplicity of rodeo cowboys. Johnson makes the rodeo and ranching aspects of this novel so real. The in-depth accuracy isn't a narrative that bogs the story down, but rather, is part of who the characters are. Her descriptions bring the entire world to life in a beautifully vivid way.
The main couple had my heart in their hands from the moment they met. I loved how they struggled with the contradiction between what they wanted and what they believed. The fact that they were just real, genuine, down to earth people made their struggle even more poignant. Tyler's drawn really comes through in the dialogue. The good ol' boy personality really stands out. Johnson does, however, pick up some of the secondary characters as if we already know them, even though this is the first book in the series. I assume that they played major roles in the series that this spun off from. It doesn't detract from the story; I just did a bit of a double take the first time it happened.
Johnson held me captive throughout with her steamy cowboys and down to earth plot. I loved this story and can't wait for more from this author.