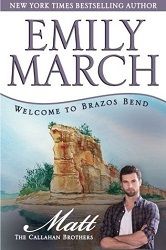 Title:
Matt - The Callahan Brothers
Series:
Brazos Bend #2
Author:
Emily March
Published:
September 19th 2014 by Emily March Books (first published 2007)
Original Title: Never Say Never, Callahan Brothers #2
Length: 330pgs
Genre: contemporary romance
Shelf: bought
Rating: ★★★★

Back Cover Blurb:
They are the Bad Boys of Brazos Bend—Matthew, Mark, Luke, and John Callahan.
New York Times, USA Today,
and
Publishers Weekly
bestselling author Emily March invites readers to travel from Eternity Springs to Brazos Bend, the small Hill Country hometown of the Callahan brothers.
Strong, independent Torie Bradshaw doesn't like playing the damsel in distress, but when a stalker's sadistic threats finally frighten her into running, she knows of only one hero to call on for help: Matt Callahan. The sinfully sexy spy had saved her once before. Surely he'll play her champion again. If only they hadn't parted under such…unfortunate circumstances.
Matt has barely recovered from the last time he tangled with Torie. When she invades his private sanctuary bringing danger, drama, and a designer dog with her, he wants nothing more than to send the beauty packing. He's busy battling old ghosts and more recent wounds. But Matt can't deny his protective instincts or the fact that this troublesome woman has gotten under his skin. So when a killer comes to call, Matt faces a startling reality—he's about to lose all the things he never thought he wanted.
My Review:
March writes with descriptions that bring this picturesque world to life. Her cenote was just as believable for me as the winery. This lifelike story took me on a great many journeys with many twists along the way. Suspense vies with chemistry at the forefront of this story. I found myself trying to unravel the mystery of 'who did it' while at the same time trying to puzzle out how in the world the main characters would work out their differences.
Matt is stuck so far in the past, living with so many regrets and preconceived notions that he couldn't see what was right in front of him if his life depended on it. At the same time, he's a very enchanting, alpha type male that will definitely give you something to dream about. Paired with Torie, the antithesis of everything that Matt thinks he believes, and you have chemistry that leaps off of the pages. All of the movie & book references were fantastic. They added so much to Torie's character. You really got to know what her interests were and how she thinks just based on what she says, and what she relates each even to.
Even though this is Matt's story, the entire family is involved. Their lives are irrevocably joined, for better or for worse, as they should be. I enjoyed the fact that this novel was so much bigger than simply a romance. Everyone is important. Mark's story is so completely heartbreaking. I can't wait to see how he recovers in his story.
As a whole, this was a fantastic addition to the series. March has definitely written a novel that is well worth reading.