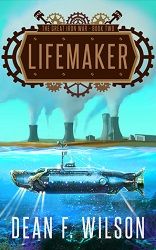 Title:
Lifemaker
Series:
The Great Iron War #2
Author:
Dean F. Wilson
Published:
March 31/15 by Discouri Press
Length:
250pgs
Genre:
steampunk dystopian fantasy
Shelf:
review
Rating: ★★★★★
Back Cover Blurb:
The Regime is on the hunt, forcing the Resistance to take refuge aboard the Lifemaker, an advanced submarine that houses a special cargo: a handful of women who are can give birth to human children.
To evade the Regime's own submersibles, all parties must work together, but tensions are high, and not everyone on board is looking out for the greater good.
As they descend into the deeps, they quickly learn that not all monsters work for the Regime.
My Review:
Wilson has created an absolutely unforgettable story. His fantastic world building doesn't simply bring this story to life; it brings readers directly into the middle of the story. The visually descriptive writing sets the tone and the scene for the story. Realistic and heart pounding action sequences really increase the suspense. The novel is well written and edited, with the plot presented in a logical yet captivating manner that keeps readers on their toes. I will note that you really do need to read this series in order, both for context and character development.
The cast of characters in this novel is really holding me captive. Jacob actually broke my heart. Hearing his story tore at me, and seeing him with Whistler is heart-warming. I'm really starting to feel an emotional connection with some of the characters in this novel, and others, I just want to see get what they deserve. This contrast in character types makes you feel like you're really there with the characters, like you're invested in their lives. Some of the secondary characters absolutely floored me. They are larger than life and absolutely priceless! I can't say more without giving too much away, but you'll know them when you meet them. The dialogue also has a good flow, & the unique dialects really bring the characters to life and help them stand out from one another.
My final thoughts? Oh my goodness! Oh my goodness! Oh my goodness! I need the next novel now! I need to know what happens next. I am so fully invested in this story that these characters have become part of my life. This novel is dystopia with a kick. Wilson's originality and talent as a bard really shine through. The suspense and battling against the odds made it impossible to put this one down.