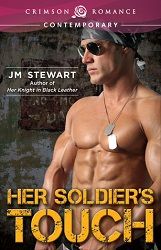 Title:
Her Soldier's Touch
Author:
J.M. Stewart
Published:
March 16/15 by Crimson Romance
Length:
214pgs
Genre:
contemporary romance
Shelf:
review
Rating: ★★★★
Back Cover Blurb:
Experience has taught single mother Rachel Madison that the only person she can truly rely on is herself. But what she wants most in the world—to give her son the life she never had growing up—means she must put her faith in a man who once walked out on her.
Retired from the service, U.S. Army Sergeant First Class Colten Taylor makes a detour to Phoenix to bury his brother. Nobody is more surprised than he to see Rachel waiting for him at the airport. He regrets the morning he walked away from her, but coming from an abusive home taught Colt to put limits on all his relationships—especially this one.
So when he discovers he has a son, Colt knows this is a chance to prove to himself he's not a chip off the old block. Turning his life around doesn't come naturally, though. Then a drug dealer crops up from his brother's dark past, threatening their son and forcing Colt and Rachel to face their demons … and each other.
My Review:
Stewart's approachable style makes it hard to put the novel down while the storyline grabs at your heart. The author approaches a myriad of topics with emotion and sensitivity, not only bringing them to the forefront of the story but also showing readers how they affected the characters in question on a real and deep level. Combine this with the larger than life secrets that are revealed and you have an emotional plot that will continue to drive you forward.
The characters are uniquely developed. It's so easy to get to know what makes them tick & how they feel. Stewart develops them quite intimately on an emotional level. It makes them very easy to identify with. The contrast between her open nature & his very standoffish one made the trials that they'd both been through stand out even more.
This novel is definitely well worth reading for all romance lovers out there. The emotionally packed plot will keep you going from the beginning to the end.
Goodreads
-
Shelfari
-
Crimson Romance
-
Amazon
-
B&N
-
Google Play