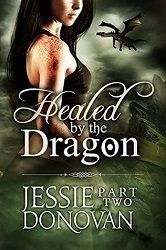 Title:
Healed by the Dragon Part 2
Series:
Stonefire Dragons #11
Author:
Jessie Donovan
Published:
April 11/15 by Mythical Lake Press
Length:
62pgs
Genre:
paranormal romance
Shelf:
review
Rating: ★★★★★
Back Cover Blurb:
PART TWO (of Four)

Events happen that force Arabella to make a choice--she can either move in with Finn or run back home to her clan. Can Arabella overcome her past so she can stay with the Lochguard dragons? If not, would Finn really let her go?

Between Arabella, her dragon, and Finn, you don't want to miss the latest installment of Healed by the Dragon.

17,000 words / 18+, sexual situations and explicit language / Cliffhanger
My Review:
Donovan's world of dragon shifters becomes more and more in depth with each story. Throughout this instalment she drops tidbits of information that gives readers an even deeper understanding of what makes these individuals tick. She continues to write with the same upbeat, inviting style that draws readers in. Her descriptions bring Lochguard to life in a very real & approachable way. At the same time, Donovan leaves room for readers' imaginations to run away with them.
Ara & Finn's story really starts to heat up with this instalment. The chemistry has been there since the first met, eons ago now, but in this story, it jumps up more than a few notches. Donovan will have you sizzling by the end & dying for the next part of Fin & Ara's story. Finding out what it is that makes Finn who he is was a shocker and a heartbreaker. Although it doesn't change how I view him, it definitely adds an extra layer of complexity to an already intriguing character. And Ara's dragon is turning out to be a real gem. She had me laughing out loud more than a couple of times.
This is a fantastic & intriguing addition to Healed by the Dragon & to the Stonefire series as a whole. I can't wait to see what happens next (I'm honestly counting down the days), but I do caution readers that they should definitely read part 1 first, for context.