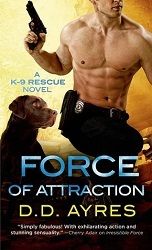 Title:
Force of Attraction
Series:
K-9 Rescue #2
Author:
D.D. Ayres
Published:
March 31/15 by St. Martin's Press
Length:
352pgs
Genre:
romantic suspense
Shelf:
Netgalley
Rating: ★★★★
Back Cover Blurb:
The only thing more powerful than fear is desire…
A seasoned K-9 officer with the police in Maryland, Cole Jamison has left her old life behind her. With a new home and a new partner—a protective canine named Hugo—Cole is ready for fresh challenges. A crucial position on an important drug task force is exactly what she wants…until she discovers her gorgeous, infuriating ex-husband will be the DEA agent in charge.

FORCE OF ATTRACTION
Agent Scott Lucca may be a pro when it comes to undercover assignments, but this job is daunting even for him. Posing as a happy couple on the dog competition circuit means he and Cole need to get a lot closer than they've been in years. Playing a live-in couple should seem like a walk in the park compared to tracking a brutal criminal, but suddenly nothing could be more dangerous than the passionate fire they've rekindled…
My Review:
This novel is a fast paced, intriguing look at the lives of K-9 officers that also tugged at my heart. Ayres combines second chance romance with the suspense of an active undercover operation in a way that will capture your attention. She develops her plot via intertwining threads that really kept me on my toes. I loved seeing how everything came together in the end. Emotions run high throughout, and suspense never takes a backseat to the chemistry that explodes from the pages at times. Ayres' vivid descriptions bring her characters and their actions to life in a realistic way that draws you to the story.
The chemistry between the main characters is palpable. Their lack of communication brings about some rather outrageous misunderstandings and assumptions. Seeing them come to grips with the fact that their reactions in the past may not have been the best course of action was rewarding. It was almost as affirmative as seeing them rebuild their lives. Their individual and combined histories add almost as much to who they are as their actions in the present. The supporting cast wasn't overly developed, but we get to know them well enough to understand their roles in the story, both personally and professionally. It was great. This really allowed the main characters to shine through.
As a whole this was an entertaining, exciting novel. Ayres has definitely created another work well worth reading.