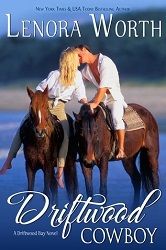 Title:
Driftwood Cowboy
Series:
Driftwood Bay #1
Author:
Lenora Worth
Published:
March 31/15 by Tule Publishing
Length:
116pgs
Genre:
contemporary romance
Shelf:
Netgalley
Rating: ★★★★
Back Cover Blurb:
Can she heal from a tragedy too great to bear?
When Michelle Lancaster flees her hometown of Spirit, Louisiana to spend time at a beach retreat in Driftwood Bay, Florida, she only wants to run from the tremendous pain of a tragedy that caused her perfect life to shatter into pieces.
But on the day when the memories become too much, a man steps into her path on the beach and causes her beloved horse Coco to almost throw her. Not to mention this is the one man Michelle has tried to avoid. But laid-back boat captain and artist Brodie Stevens has his eye on Michelle and soon, he is pursuing her with a strong-willed determination. He too is haunted, but believes that together they can heal each other. Now the driftwood cowboy must convince Michelle it's possible to hope… and to love again.
My Review:
This is a nice quick read, but not necessarily a light one. Worth evokes a gamut of emotions in her readers throughout. It is a sweet story that really makes you value the good things. This novella is about so much more than simply a romance between two individuals, it's about life. Worth's well written, yet quiet writing style lets this shine through.
Worth develops her characters in a way that makes you feel like you really know them. The trials & pain that they've been through make you really appreciate your life. At the same time their strength in the face of adversity is admirable. I appreciated the fact that Michelle needed a bit of a kick to start looking in the right direction to come out of her emotional upheaval on top. Life may not come easily for these two but it definitely came about well in the end. I enjoyed watching them open up throughout, becoming the type of people that they were meant to be.
This was a heartfelt, emotional novella that I thoroughly enjoyed. Worth is definitely an author worth watching.