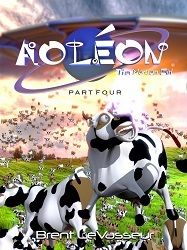 Title:
Illegal Aliens
Series:
Aoleon the Martian Girl #4
Author:
Brent LeVasseur
Published:
February 1st 2015 by Aoléon Press
Length:
147pgs
Genre:
children's SciFi
Shelf:
review
Rating: ★★★★★
Back Cover Blurb:
Aoléon and Gilbert have become the Luminon's top priority in stopping the Martian resistance movement, and after being chased by the Royal Paladin Guard, they are forced to flee the Martian Megalopolis. Aoléon, Gilbert and Zoot escape with the help of Bizwat and his newly found friend, Helios, a first generation soldierbot.
After their saucer is destroyed, they crash land somewhere in the deep Martian desert, and they set out to locate Kyrios and the secret base where Aoléon's parents are being held captive.
After battling the forces of nature, starvation, a Klyklon dust storm, (and not to mention a giant slor that almost swallows them alive), they finally make it to their destination. However, after Kyrios gives Gilbert some basic training to develop his budding psionic power, they learn that their journey is far from over.
Will Aoléon, Glbert, Bizwat, Helios, and Zoot be able to rescue Aoléon's parents and stop the Martian invasion of Earth in time?
Read part 4 to find out!
Join Aoleon and Gilbert in this exciting middle school sci-fi adventure!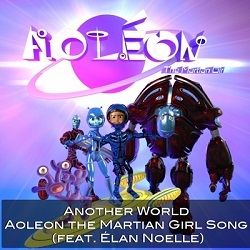 Buy The Martian Girl Song!
Another World - Single
Meet the Author:
Mr. LeVasseur enjoys crafting good stories based on lovable characters designed to translate well to multiple media formats such as books, games, movies, and toys. He lives in New York when he is not commuting between Southern California and Olympus Mons, Mars. His hobbies include writing, 3D animation, musical composition, and intergalactic space travel. He also enjoys various sports such as skiing, running, and exospheric skydiving.
Connect with Brent:
Website
~
Twitter
~
Facebook
~
Aoléon: The Martian Girl

My Review:
There are conspiracy theories everywhere, but have you ever thought about what happens when the conspiracy theory is real? When the conspiracy is the truth? LeVasseur brings this thought forward in a very enjoyable, SciFi-esque manner that will keep readers hooked throughout. The 'big brother' aspect of the story really takes off in this segment. LeVasseur paints a vivid picture as to what it's like to be ruled by those controlling and watching your every action. And the acronyms that he comes up with for the various locations, groups, and people are absolutely priceless. I had more than a few 'giggle/snort' moments while reading them. The technical aspects of the story also held me captive. LeVasseur doesn't hesitate to get in depth, giving readers a full view of everything.
The variety of different characters in this story is enchanting. LeVasseur develops each individually. I love how they all could keep up with the fast paced, action packed plot. He also takes the time to continue developing the various peoples we meet. The cultural diversity is astounding. The dialogue is fantastic. You can really feel the different speech patterns throughout.
I can't leave without commenting on LeVassuer's amazing graphics. The colours really bring the story to life, while the pictures themselves add even more credence to the story at hand. Words can't describe how much they add to the story, without ever detracting from or overpowering the plot. They complement LeVasseur's brilliant descriptions, drawing readers fully into the tale. Oh, and chirons may just be the cutest creature ever, in an addlebrained type way.
No, this story is not a standalone. The various instalments need to be read in order for full impact. But it is definitely well worth reading. My advice? Pour yourself a big glass of milk & sit down to enjoy the ride of a lifetime.