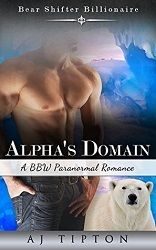 Title:
Alpha's Domain
Series:
Bear Shifter Billionaire #3
Author:
A.J. Tipton
Published:
April 14/15
Length:
58pgs
Genre:
paranormal romance
Shelf:
review
Rating: ★★★★★
Back Cover Blurb:
Ben Broyles is a billionaire, polar bear shifter and hotel mogul haunted by his tragic past. He built his magical ice hotel as a sanctuary for the supernatural. When the evil goblins who murdered his clan check in, Ben knows they'll do everything they can to destroy all he's built. With the future of his hotel--and his life--on the line, Ben must stop the goblins and find justice before it's too late.
Sally is the curvy and capable manager of the Wondernasium Hotel who thinks she has everything handled. A whole conference of supernaturals with crazy dietary restrictions? Handled. Guests who try to eat the other guests? No problem.
But there's one thing Sally can't handle: her desire for her boss. When a steamy encounter in Ben's office turns her entire world upside down, Sally has a choice: will she embrace the magic within? Or will she flee from her true self?
This paranormal romance for adults includes sexy bear shifters, interfering supernatural bartenders, explosive magic training, and a workplace romance so hot it will melt even the coldest heart.
My Review:
I love the way that Tipton has developed her supernatural world. There are so many different kinds of supernaturals that we encounter throughout. There is also a well-defined concept behind what each creature/being/race is and how they act and appear. For example, there is a very well defined concept of what being a witch means, & how there is more than one kind of witch. I like how humans can 'choose' whether or not to perceive the supernatural world surrounding them, albeit in a subconscious manner.
Tipton's character development is unique & quite well done. Although this is a short story, I felt as if I'd really met the characters. Sally's journey to discovering the real world around her was fascinating and more than a little bit hot too. Her 'trigger' had me laughing repeatedly. And you've got to admit that a Polar Bear shifter with an ice hotel is more than a little awesome.
Tipton's slightly snarky, very comical writing kept me coming back for more and has me dying for the next story in this series. This story may be short & sweet, but it's definitely a complete story in and of itself.
Goodreads
-
Amazon