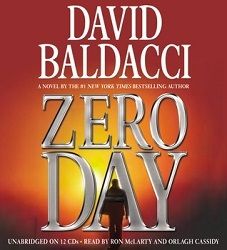 Title:
Zero Day
Series:
John Puller #1
Author:
David Baldacci
Published:
October 31/11 by Grand Central Publishing
Length:
434pgs
Format:
audio book
Genre:
thriller
Shelf:
borrowed
Rating: ★★★★
Back Cover Blurb:
From David Baldacci--the modern master of the thriller and #1 worldwide bestselling novelist-comes a new hero: a lone Army Special Agent taking on the toughest crimes facing the nation.
And
Zero Day
is where it all begins....
John Puller is a combat veteran and the best military investigator in the U.S. Army's Criminal Investigation Division. His father was an Army fighting legend, and his brother is serving a life sentence for treason in a federal military prison. Puller has an indomitable spirit and an unstoppable drive to find the truth.
Now, Puller is called out on a case in a remote, rural area in West Virginia coal country far from any military outpost. Someone has stumbled onto a brutal crime scene, a family slaughtered. The local homicide detective, a headstrong woman with personal demons of her own, joins forces with Puller in the investigation. As Puller digs through deception after deception, he realizes that absolutely nothing he's seen in this small town, and no one in it, are what they seem. Facing a potential conspiracy that reaches far beyond the hills of West Virginia, he is one man on the hunt for justice against an overwhelming force.
My Review:
Oh my goodness! Could you just imagine? Baldacci has taken one of the most terrifying possibilities and brought it to our backyard in a chillingly realistic manner. Chilling narratives combine with an intricate storyline to create a very believable, chilling, and entertaining whole. The plot twists were never ending. I couldn't believe that I never figured out the mastermind. I actually had to wait to be told in the last chapter. At the same time, I didn't feel as if it came out of left field. It made perfect sense to me.
I really enjoyed getting to know the major characters in the novel. Baldacci develops them on multiple levels, really allowing readers to get the inside track on the story. The main character easily carried this story forward, keeping me coming back for more.

The audio version of this novel was great. The narrators worked well together to bring the characters to life. I thoroughly enjoyed listening to them. The sound effects that were built in to the story took it up to another level. They ramped up the intensity at times and really brought the entire concept home.

Baldacci has once again created a story that kept me hooked. It was a joy to read & listen to.