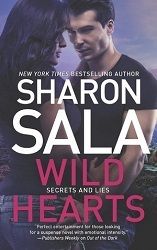 Title:
Wild Hearts
Series:
Secrets & Lies #1
Author:
Sharon Sala
Published:
March 31/15 by Mira
Length:
400pgs
Genre:
romantic suspense
Shelf:
Netgalley
Rating: ★★★★★
Back Cover Blurb:
Past Sins Cast a Long Shadow
Dallas Phillips refuses to believe her father committed suicide, even though things were tough on his farm and he was deeply in debt. When she hears he'd told a neighbor about an upcoming windfall, she grows suspicious, and her suspicion only deepens when she realizes someone is lurking in the nearby mountains after dark.
For help, she turns to Trey Jakes, local police chief—and her former lover. As they begin to investigate, another mystery comes to light. Trey's mother is beginning to remember events from thirty years ago, something shadowy that happened in the mountains, and Dallas's father was there, too. Is what happened that night connected to his "suicide"? As they search for the truth, Trey and Dallas struggle to fight their attraction, but they may not be able to fend off another force—a killer who's more than willing to kill again to make sure old secrets stay buried.
My Review:
This is a second chance romance with a twist. The intricate plot was completely believable and so engaging that I couldn't put it down. By developing the story the way that she did, giving readers insights and angles the main characters don't have, Sala really ramps up the suspense factor. I like how the past and present were directly correlated. Events were set in motion that affected everyone involved. Puzzling out who 'the killer' was kept me on my toes and thoroughly engaged in the story while the chemistry and renewed romance between the main characters kept my pulse racing and had me wondering how it would all end.
Sala has developed some spunky characters that will make you smile. I found the main characters approachable and easy to relate to. Their relationship with one another was complex and very rewarding. The complete naturalness and unpredictability of their actions made them seem ever so real. The secondary characters in this novel were brilliant as well. They rounded out the story very well. The 'bad guys' actually gave me chills. I enjoyed the suspense in the way that 'the killer' was developed. I'm still trying to puzzle it out.
This is my first novel by this author but it definitely will be far from my last. Her unique writing style and stand out plot kept me hooked from the first page to the very last.