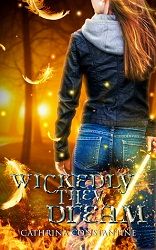 Title:
Wickedly They Dream
Series:
Wickedly #2
Author:
Cathrina Constantine
Published:
November 5/14 by Black Opal Books
Length:
258pgs
Format:
ecopy
Genre:
YA
Shelf:
review
Rating: ★★★★
Back Cover Blurb:
After Seeley is possessed by an evil wraith, Jordan must dig deeper into the Satanic realm. Against Markus's direct orders, she offers herself, body and soul in a blood covenant to rescue Seeley from the clutches of hell. Jordan assumes her guardian angel will not leave her to fight alone. But there's trouble in paradise, and Markus has been reassigned. Can Jordan defeat both her internal and external demons to win him back? Or is he gone for good this time?
My Review:
Constantine's eloquent writing flows to bring this story to life. Her picturesque descriptions are vivid & realistic. She brings this fantastic world to life in a big way. It is the perfect backdrop for this nail biting storyline. This combination of good, evil, & romance is not only satisfying but also wildly imaginative.
Constantine continues to develop the characters that we met in Wickedly they Come. I appreciate they how they continue to grow as individuals, never stagnating. I also enjoyed meeting the new characters that Constantine brings to life. Each adds its own aspect to the novel, enhancing the story.
This novel was definitely a fantastic sequel in Constantine's series. I can't wait to see what comes next.