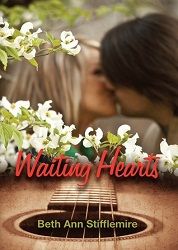 Title:
Waiting Hearts
Author:
Beth Ann Stifflemire
Published:
July 4/14 by Waldorf Press
Length:
310pgs
Format:
paperback
Genre:
contemporary romance
Shelf:
review
Rating: ★★
Back Cover Blurb:
Living with a rare heart condition, Kayla Parker a twenty-six year old elementary school teacher chooses to keep things simple, never yearning for love or the drama that inevitably comes with it, especially after experiencing the pain of losing her father to a similar condition. Kayla plays it safe, avoiding the nightlife and dating scene that surrounds her in the budding music city of Austin, Texas. That is until the charismatic easy on the eyes musician Gabe Parker falls into her life at a local coffee house and all of her rules on love fly out the window. Gabe opens her eyes and heart to a love Kayla never imagined when he accepts all of her, even her condition, but when the music world Gabe's a part of comes knocking with big opportunities she second guesses herself and her love. Life changing decisions are made that result in a combination of tragic and bittersweet aftershocks. Can their love surpass circumstance? Can her heart endure?
My Review:
Stifflemire has created a solid world for her characters to live in. She develops the setting quite well, allowing readers access to all aspects of it. I found the plot of the novel to be rather predictable and the writing was simplistic. The dialogue was definitely choppy. At the same time, it could definitely use more editing as punctuation is problematic and detracts from the story.
The characters in this novel were quite enjoyable. There was some depth to their development. They were intriguing individuals with lives that definitely were out of the ordinary. They held my attention throughout, giving me cause to return to the story time after time.
As a whole, this novel was a decent read. It could use a bit more editing which made it difficult to get into.