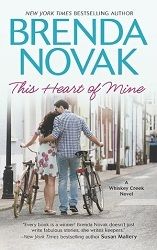 Title:
This Heart of Mine
Series:
Whiskey Creek #8
Author:
Brenda Novak
Published:
March 31/15 by Mira
Length:
400pgs
Genre:
contemporary romance
Shelf:
review
Rating: ★★★★★
Back Cover Blurb:
First love. Second chance?
As the daughter of a hoarder, Phoenix Fuller had a tough childhood. So when the handsome, popular Riley Stinson became her boyfriend in high school, she finally felt as though she had something to be proud of. Phoenix was desperate not to lose him—especially once she found out she was pregnant. Yes, she might have acted a bit obsessive when he broke up with her. But she did not run down the girl he started dating next!
Unfortunately, there was no way to prove her innocence. Now, after serving her time in prison, Phoenix has been released. All she wants to do is return to Whiskey Creek and get to know her son. But Jacob's father isn't exactly welcoming.
Riley doesn't trust Phoenix, doesn't want her in Jacob's life. He is, however, ready to find someone to love. And he wants a good mother for his son. He has no idea that he's about to find both—if they can forgive the mistakes in their past…
My Review:

Engaging. Emotional. Gripping. Thought provoking. All of those terms describe this novel to a T. Novak's writing is so full of compassion and understanding that it turns her unbelievable story into something unforgettable. I felt completely connected to it. My emotions ran high, alongside the characters. I had tears in my eyes multiple times and laughed out loud more than once. This novel definitely lead to one very sleepless night. I simply couldn't stop reading it. The plot was intricately crafted, bringing forward a captivating tale that I'll never be able to forget.

I really enjoyed how she took us back into the lives of previous characters from the series while at the same time focussing on the new story at hand. I thoroughly enjoyed getting to know Phoenix and Riley. The combination of their pasts and having grown up to realise no one is faultless or to be blamed makes for a rather intriguing relationship. Their attraction to one another lies in contrast to their compassion and their desire to never hurt each other again. Watching them overcome all of the obstacles in their path made my heart ache, but at the same time really drew me to them. The fact that they had so much more to worry about than simply themselves simply added to the appeal of the tale. Family and friends play an integral role in the lives of these characters.

And now for those ever important questions. Would I recommend this novel to others? Without a moment's hesitation. Will I be re-reading it? Most definitely. Will I be reading more from this series? Every book I can get my hands on!