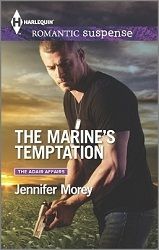 Title:
The Marine's Temptation
Series:
The Adair Affairs #2
Author:
Jennifer Morey
Published:
March 1/15 by Mills & Boon
Length:
284pgs
Genre:
romantic suspense
Shelf:
review
Rating: ★★★★
Back Cover Blurb:
Shocking discoveries rock the Adairs…and a determined librarian can't help falling for one of this dynasty's rugged heroes!
It's true that money can't buy happiness. Librarian Georgia Mason has seen one wealthy Adair ruin her stepmother's life and swears she won't get involved with his son Carson. So what if he's a hot former special ops soldier who showers her with extravagant gifts? But he is the sexiest man she's ever met and it's hard to hate him for searching for his long-lost stepbrother, or tracking down the traitor behind his botched mission. And when Georgia faces life-threatening danger, Carson protects her, igniting their scorching passion. Maybe love of money isn't the root of all evil. Maybe there's more to Carson to trust, respect…and love.
My Review:
This novel is well written with a tone & style that invites you back for more. Suspense starts in the first chapter and keeps up the pace throughout. Morey had me intrigued with her premise and kept me coming back for more. The plot was unpredictable, keeping me on my toes throughout. I loved how technical this novel gets at times. It really added to the experience for me.
The characters in this novel were quite interesting. Morey developed the major players quite well. Readers get a sense of who they are on the surface, and what really makes them tick on the inside. I found Georgia's prejudices to be a bit tedious after a while, especially with the number of times that she acted against what she supposedly believed. It definitely added to the story though.
As a whole, this was a remarkably captivating novel that kept me guessing. I couldn't unravel the plot before the end, and the romance was definitely one of a kind.