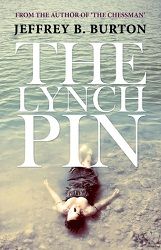 Title:
The Lynchpin
Author:
Jeffrey B. Burton
Published:
August 12/14 by MP Publishing
Length:
288pgs
Format:
paperback
Genre:
thriller
Shelf:
review
Rating: ★★★★
Back Cover Blurb:
Special Agent Drew Cady has waved goodbye to Washington, D.C. and ten years of chasing violent felons in the Federal Bureau of Investigation's Criminal Investigative Division (CID). He is on the mend, both physically and emotionally, as he helps run his fiancée's resort in northern Minnesota while working part-time on the FBI's Medicare Fraud Strike Force in Minneapolis. Chasing white color criminals is a far cry from hunting serial killers and Cady basks in the glow of his newer, more laid-back lifestyle, that is, until a young woman's body possessing a most-disturbing characteristic is pulled from Lake Superior outside of Duluth. And if being ordered to investigate this case isn't bad enough, Cady's former boss—Assistant Director of CID Roland Jund—has killed a fellow agent and stands accused of being a spy. Now Agent Cady must draw upon every last bit of experience he has to clear his friend's name while at the same time ensuring that no more innocent lives are extinguished by a sadistic killer with a taste for blood. But nobody is who they appear to be and information is only as reliable as its source.
My Review:
This novel is well written with an intricate, intriguing storyline. His attention to detail brought the story into sharp focus. Burton kept my attention throughout. It was definitely unlike anything I've ever read before. The novel was well researched. The realism behind the entire thing was breathtaking. Burton brings the story to life in a variety of hues. He made it easy to walk through this world alongside his characters.
I quite enjoyed getting to know the characters that Burton has created. They were interesting and lifelike individuals who really drew me into the tale. Each individual was complete with a past, present, and future. The multiplicity of character types means there's someone for everyone to identify with.
As a whole this is an intriguing, thought provoking novel that kept me on my toes. I will definitely be looking further into this author's work in the future.