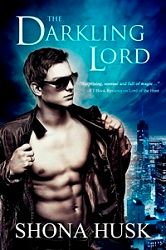 Title:
The Darkling Lord
Series:
The Court of Anwynn #4
Author:
Shona Husk
Published:
March 19/15
Length:
219pgs
Genre:
fantasy romance
Shelf:
Netgalley
Rating: ★★★
Back Cover Blurb:
A darkling with a lust for power…
Henry Saint shouldn't exist. Every year on his birthday, he kills someone and takes their soul so that he may live another year. He is a darkling, not fairy… but not human either. Yet he is bound by the laws of both worlds. With a new King on the throne of Annwyn and the mortal world trying to rebuild after plagues killed so many, Henry seizes the opportunity to carve out a place of his own. He wants Detroit.
A spy without a soul…
Darah was Felan's spy before he became King of Annwyn. Now he has one last mission for her. He wants her to join the darkling's Court and discover what Henry's endgame is. No one trusts the Banished when they gather in great numbers. As Darah gets drawn into Henry's world she realizes he can give her the one thing she could never find in Annwyn—love. But is love worth betraying her King?
My Review:
This is a remarkably vivid fantasy tale. Husk uses her words to paint this world before her audience. The world surrounding the characters becomes vividly real, allowing readers full access to the story. The plot was well thought out & presented. Romance & chemistry vie with courtly intrigue for centre stage. The story was well developed & well rounded. I simply found that this instalment had a hard time holding my attention throughout. I repeatedly found myself putting it down and wandering off to do something else.
I really enjoy Husk's take on fairies. She develops them and their world well. The different types are individually developed, allowing readers a sense of who everyone is and what they believe. The difference, and chasm, between the fairy court & the human realm is also very apparent here. The difference between those from the court of Anwynn and those residing in the human realm was also apparent and the basis of much of the lives of the characters. In fact, it was the basis of much of the tale, to the extent that one could almost sum up the main characters & the plot this way.
As a whole, this was an intriguing novel. Husk has returned to her well-developed & thought out world to create another adventure for her readers. Many readers are bound to love this story, I enjoyed it, but it simply didn't capture all of my attention.