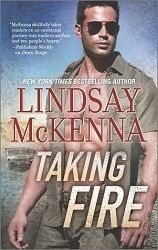 Title:
Taking Fire
Series:
Shadow Warriors #7
Author:
Lindsay McKenna
Published:
February 24/15 by Harlequin HQN
Length:
384pgs
Format:
ecopy
Genre:
romantic suspense
Shelf:
Netgalley
Rating: ★★★★★
Back Cover Blurb:
She dances on the edge of life…and death…
Not all are meant to walk in the light. Marine Corps Sergeant Khat Shinwari lives among the shadows of the rocky Afghani hills, a Shadow Warrior by name and by nature. She works alone, undercover and undetected—until a small team of US Navy SEALs are set upon by the Taliban…and Khat is forced to disobey orders to save their lives.
To go rogue.
Now, hidden deep in the hills with injured SEAL Michael Tarik in her care, Khat learns that he's more than just a soldier. In him, she sees something of herself and of what she could be. Now duty faces off against the raw, overwhelming attraction she has for Mike. And she must decide between the safety of the shadows…and risking everything by stepping into the light.
My Review:
McKenna takes readers deep into her intensely action packed novel right from the very first sentence. I appreciate the way that McKenna uses slang and acronyms, yet also defines them. She keeps up the fast paced, in your face, reality of the situation while at the same time allowing readers full access to the subject matter at hand. Not only is this novel action intensive and suspenseful at times, it is also emotionally poignant. You can feel it pouring forth from the pages. The story is so lifelike that you will be on edge rooting for the characters.
Khat is a mix of contradictions laid bare for the reader to see. She's a fighter yet completely vulnerable. Broken, yet has a strength most of us will never experience. Mike, being the overprotective alpha type that he is in in direct contradiction with, yet fully needed by, her. Combined with their intense chemistry you have a couple that will definitely catch your attention. And even with the characters, it's the small details that count, or rather in this case, one big one. The ending with Mina was perfect, she made it home as well.
This vividly lifelike take will have you hooked. It was a fantastic romantic suspense that takes the 'military romance' sub-genre to a whole new level.