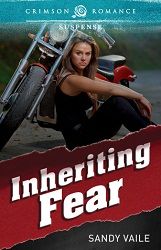 Title:
Inheriting Fear
Author:
Sandy Vaile
Published:
February 16/15 by Crimson Romance
Length:
282pgs
Format:
ecopy
Genre:
romantic suspense
Shelf:
review
Rating: ★★★★
Back Cover Blurb:
Chef Mya Jensen's plate is already full. She has her job, her motorbike, and her kickboxing and she's the guardian of her disabled mother. She doesn't need a man in her life, and she definitely doesn't need her cocky new neighbor, Detective Luca Patterson, linking her to his latest investigation.
Luca has never crossed a professional line—until he meets Mya. She is sexy, feisty, and so many kinds of wrong, but he can't stop thinking about her. Maybe because every time he's onto a lead in his latest jewelry counterfeit case, her name pops up. But is she a victim or a suspect?
When Mya gets targeted by an old foe hell-bent on revenge, her secrets coincide with Luca's case—and lead to an unexpectedly sizzling interlude in his bed. Will this independent woman try to fight her way out of this one, or finally open up her heart?
My Review:
Vaile writes in a very entrancing manner. I found myself pulled into the story from the moment I met the main character. The sense of foreboding emanating from the pages sent a chill down my spine. The plot is intricately thought out, minute details blending with the overarching story to create a suspenseful whole. I was attempting to unravel the mystery just as much as the characters were.
The characters in this novel were quite well developed. The intricacy of Vaile's writing is very prevalent in the in depth yet approachable backstories for both of the main characters. The main characters were multifaceted and very 3dimensional. The complexity of their characters made them very easy to want to know, yet their intense and heartbreaking pasts made them individuals that, even if you couldn't identify with them, you could easily feel for them. The chemistry between these two was off the charts. I appreciated the conflicts that this caused both of the characters, if for extremely different reasons.
As a whole this was an intensely suspenseful novel that was a joy to read. Vaile is definitely an author to watch.
Goodreads
~
Shelfari
~
Crimson Romance
~
Amazon
~
B&N
~
Indigo
~
Google Play