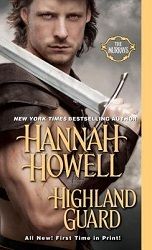 Title:
Highland Guard
Series:
The Murrays #20
Author:
Hannah Howell
Published:
February 24/15 by Zebra
Length:
353pgs
Format:
ecopy
Genre:
historical romance
Shelf:
Netgalley
Rating: ★★★★★
Back Cover Blurb:
New York Times
bestselling author Hannah Howell brings back the daring Murray family in a brand-new tale of dangerous love rekindled. . .
Lady Annys MacQueen has no other choice. The deception that enabled her to keep her lands safe is on the verge of being revealed by a cruel kinsman. To shield her young son from the sword and her people from devastation, she must turn to the one man she could never forget. . .
He lives for duty and honor. So the only way Sir Harcourt Murray could repay the laird who saved his life was to agree to father a child with Sir MacQueen's wife. . .Lady Annys. Now the passion he still feels for the lovely strong-willed widow is as all-consuming and perilous as securing her lands. But to convince her that his love is forever real means confronting her most wrenching fears--and putting everything they treasure most at stake.
My Review:
What a brilliantly lifelike story! Howell deftly recreates medieval Scotland for her readers, allowing them to walk back in time while enjoying a fast paced, intricate tale full of intrigue, betrayal, and romance. Her picturesque descriptions paint this world before your eyes. The consistent dialogue completes the transition, really making you feel like you've traveled back in time. I really enjoy how Howell presents life amidst chaos and betrayal. Romance and chemistry don't take a back seat simply because something has gone wrong. At the same time, it doesn't outrank that either. Balance is key.
Howell presents her readers with characters who are physically, intellectually, and emotionally developed. Not only are these characters easy to get to know but they are also easy to understand and relate to, regardless of the difference in time and circumstance. Both of the main characters were the type of individuals that one could easily fall for. At the same time the trials that they'd been through and the barriers to their relationship made my heart go out to them. The large cast, reaching out to clansmen, villagers, and even livestock and pets made me feel like part of this story, rather than simply part of the audience.
This was a brilliant return to the Murrays. Howell's unique & wildly imaginative tale kept my attention, while the realism of the story made it infinitely more enjoyable. I would highly recommend it to all lovers of historical romance, whether they've read the rest of the series of not.