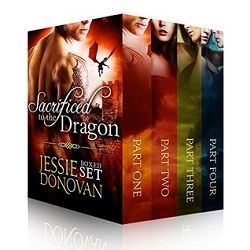 The Keys to Great World-building by Jessie Donovan
I write three series and one of the things people often remark about them is how the worlds seem so real they could easily believe them to exist. While it'd be nice to say it just happens, I strive to add a little unknown to the known. It's deliberate, and I owe my world-building skills in large part to my degree in social anthropology.
Anthropology is the study of culture. (I'm going to avoid theory and jargon and just give it to you straight!) What defines a culture varies, but there are a few things they all have. A fictional world should easily come alive if the author has added the following:
1) History. The present day is a result of many events before it. Fictional worlds should also have major and minor events that shaped their current circumstances. For paranormal romance, find a way to include pieces of real history and give it a twist. I do this all the time!
2) Stories. We all have legends, myths, and folk tales in our respective cultures, and so should fictional worlds. (Make a few up and reference them to really wow the reader!)
3) Diversity of People and Locations. Not everything takes place in the United States, nor are all heroes of heart and deed perfect in every way. Stories set in other countries give a story (and series) an international feel.
4) Ceremonies and Rituals. Think about births, marriages, and deaths. How do people celebrate or acknowledge the life event?
The next time you read a story, see if the author has included the above in their world-building, even if it's just a passing reference. My favorite authors tend to use the above, and more, to create unforgettable stories.
What brings a fictional world alive for you?
About the author:

Jessie Donovan wrote her first story at age five, and after discovering the Dragonriders of Pernseries by Anne McCaffrey in junior high, realized that people actually wanted to read stories like those floating around inside her head. From there on out, she was determined to tap into her over-active imagination and write a book someday.

After living abroad for five years and earning degrees in Japanese, Anthropology, and Secondary Education, she buckled down and finally wrote her first full-length book. While that story will never see the light of day, it laid the world-building groundwork of what would become her debut paranormal romance, Blaze of Secrets. In late 2014, she officially became a New York Times and USA Today Bestselling author.
Jessie loves to interact with readers. When not reading or traipsing around some foreign country on a shoestring, she can often be found on Facebook. Check out her page
here
.
And now, enter to win in this fantastic giveaway with Jessie Donovan!
2 lucky winners will both receive a signed copy of either the
Seducing the Dragon
paperback or
Sacrificed to the Dragon
AND their choice of one ebook from:
Blaze of Secrets
or
Reclaiming the Wolf
.
Contest is open internationally, where applicable by law.
Entries close at 11:59pm March 16/15.
Winners will be drawn March 17/15.
Winners will be notified via email to the email provided to the giveaway and will have 72h to claim their prize or another winner will be drawn.