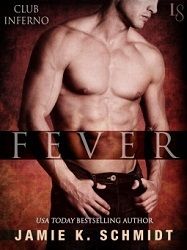 Title:
Fever
Series:
Club Inferno #3
Author:
Jamie K. Schmidt
Published:
March 17/15 by Loveswept
Length:
220pgs
Format:
ecopy
Genre:
erotic romance
Shelf:
Netgalley
Rating: ★★★★
Back Cover Blurb:
Readers of Fifty Shades of Grey and Bared to You will savor a visit to Club Inferno, the erotic playground where glitz and glamour mix with leather and whips.
Deep in the shadows of her exclusive fashion resort, Couture, Colleen Bryant presides over a much more intimate world: Club Inferno. The successful businesswoman and sex instructor has built an empire that caters to the BDSM elite, but now she finds herself longing for something a bit more ordinary: a man to love. She's not sure how to find someone who will accept what she does for a living—or the kinks that drive her wild—until her old flame, ex-pro football player Chase Fairwood, comes back in her life.
There's no woman as hot, sexy, or exciting as Colleen—and Chase knows it. He also knows he's man enough to play her games, and to give as good as he gets. His return to Club Inferno reignites Colleen's scorching demands, along with a new determination to test his resolve. Soon he's competing against a rival Dom to brand Colleen as his own. But Chase has a secret weapon: the burning desire to offer his body—and his heart—in sweet surrender.
Fever is an erotic romance intended for mature audiences.
My Review:
Schmidt has created a complex and inviting world around Club Inferno that will take readers deep into her characters' lives. The combination of fashion and BDSM works surprisingly well for her, creating a brilliant backdrop for her fast paced & explosive story. This novel has heat & passion, as well as a story of substance. I thoroughly enjoyed it.
The main characters' pasts spill over into the present in an explosive way. Their different worlds collide as the characters learn to compromise. By the end it was most like they'd come to understand one another, and to understand how to bring their different selves together into a solid couple. Chase makes the most comically hot-headed sub I've ever encountered. Combine this with Coleen's need to be in control and you have one unique relationship. Schmidt backs these two up with a well-developed cast of secondary characters who really make you feel like you're at Couture & Club Inferno.
This novel was a great read. Schmidt really drew me in. The story works well as a standalone or as part of this author's fantastic series.
Goodreads
~
Shelfari
~
Amazon
~
B&N
~
Google Play