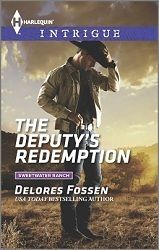 Song Playlist for The Deputy's Redemption by Delores Fossen
I usually have an odd mix for a book's playlist, mainly because I'm writing anything from a love scene to a shootout. Here's the playlist for
The Deputy's Redemption:
All I Want Is You—U2
Different Drum—The Stone Poneys
Welcome to the Jungle—Guns N Roses
You're the One—Dwight Yocum
Flesh and Blood—Johnny Cash
Take Me to Church—Hozier
Love Lessons Learned from The Deputy's Redemption
Real life romance lessons learned from the book
Finding and keeping love is hard work but worth it when you're with the right person.
Delores Fossen's Movie Star Cast for The Deputy's Redemptions
A less buffed up Charlie Hunnam for Colt
Natalie Portman for Elise
About the Author:
DELORES FOSSEN is a
USA Today
bestselling author with a family tree that includes Texas cowboys, Choctaw and Cherokee Indians, a Louisiana pirate, and a Scottish rebel who battled side by side with William Wallace. With ancestors like that, it's easy to understand why Delores, a Texan and former Air Force captain, feels as if she were genetically predisposed to writing romances. Along the way to fulfilling her DNA destiny, Delores married an Air Force top gun who just happens to be of Viking descent. With all those romantic bases covered, she doesn't have to look too far for inspiration.
Praise for Delores Fossen:
"Delores Fossen is just a delightful find! She's witty, wonderful and wicked." –
The Belles and Beaux of Romance
"Fossen's stories are known for non-stop, explosive action with nail-biting close calls and impressive booby traps, and her latest is right up there. Fans should appreciate the consistency in a genuinely solid series" –
RT Book Reviews
"There is just something about Delores Fossen's writing style that I can't resist." –
Riverina Romantics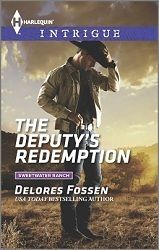 Title:
The Deputy's Redemption
Series:
Sweetwater Ranch #5
Author:
Delores Fossen
Published:
February 20/15 by Mills & Boon
Length:
217pgs
Format:
paperback
Genre:
romantic suspense
Shelf:
review
Rating: ★★★★★
Back Cover Blurb:
The woman fleeing a cold-blooded killer is no stranger to Deputy Colt McKinnon. Fourteen years ago, Elise Nichols was the love of his life. Now she's back in Sweetwater Springs—to be the star witness in an upcoming murder trial that could tear the Texas lawman's family apart.
With her explosive revelations certain to rock the town, Elise didn't expect to be welcomed home with open arms. Certainly not by the cowboy with the badge who once meant everything to her. But after being run off the road and shot at, she has no choice but to trust him. Even more dangerous is the desire that's reigniting, making Elise yearn for something she may not live to see.
My Review:
This novel had me on pins and needles throughout. Fossen combines second chance romance, suspense, and action in an all-out fight to find the culprit before it's too late. The many threads of intrigue and controversy combine into a myriad of possibilities, leaving readers to unravel the mystery while being caught up in the intense budding romance. I love how the overarching theme of the series winds its way through this story while intertwining with the intense theme of this novel itself.
Well developed, in-depth characters give a sense of 3-dimensionality to the story. The fact that they can be so real while fighting for their lives and livelihoods was enchanting. Fossen alludes to previous events in the series while also developing her main characters completely in the present. These characters became so real for me that I felt as if I actually knew them.
Fossen has created an action packed, very lifelike story to carry her Sweetwater series forward. I devoured it in a single sitting and still can't stop thinking about it.