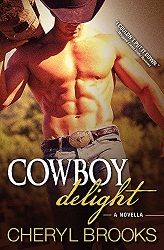 Title:
Cowboy Delight
Series:
Cowboy Heaven #0.5
Author:
Cheryl Brooks
Published:
February 3/15 by Sourcebooks Casablanca
Length:
138pgs
Format:
ecopy
Genre:
contemporary romance
Shelf:
Netgalley
Rating: ★★★★
Back Cover Blurb:
Getting stranded has never felt so good…
Lauren Allen is on her way to meet her future in-laws when her car breaks down on a scorching, dusty Texas highway. There's no shortage of handsome cowboys turning up to save the day, but she puts her trust in local rancher Steve Williams. From the moment she shakes his hand, his warm, calloused grip makes her hotter than she knows what to do with…
Excerpt:
In the next instant, a bolt of lightning struck mere inches from the passenger side door, immediately followed by a clap of thunder that shook not only my brains but the entire truck. With a yelp, I braced my feet on my suitcase and pivoted away from the door, an action that landed me squarely in Steve's embrace with his sharp exhale enticingly warm on the back of my neck.
Fear quickly gave way to embarrassment. Muttering an apology, I tried to scoot away, but the tightening of his arms stopped me. He wasn't exactly preventing me from getting off his lap, but I got the distinct impression he didn't want me to.
"Lauren," he whispered. "Sit still for a minute. Please."
His voice was husky and his breath tickled my ear, sending a rush of tingles all the way to my toes. I tucked my legs up under the blanket and leaned against him. Although rain continued to pound the roof, the hail was already diminishing in size. Another flash of lightning lit up the sky, followed by thunder and a loud, cracking noise that, thankfully, seemed farther away this time.
"Warmer now?"
In the wake of nearly being struck by lightning, I hadn't given much thought to the cold, but I was no longer the least bit chilly. With the blanket covering most of my body and Steve wrapped around the rest, I felt downright cozy.
"I'm fine, thanks."
I turned slightly, intending only to glance up at him with a smile, but what I saw in his eyes held me like a chain. The heat within the circle of his arms escalated as his embrace went from protective to intimate in a heartbeat. Shifting his hold on me, he leaned closer, caressing my cheek with his fingertips. With that gentle touch, fire surged through every erogenous zone I possessed. My lips parted seemingly of their own accord, and as he closed the distance, my eyelids fluttered shut.
As his lips touched mine, my body melted into a pool of liquid desire. I couldn't even raise my arms. Never before had a kiss left me so powerless and yielding yet keenly aware of my surroundings—the softness of his lips, his hands on my skin, his hot tongue delving deeply into the recesses of my mouth. I was even aware that the rain was letting up. In the relative silence, I could hear my own sighs as well as his quiet groan as he slid a hand under my knees and tucked my legs behind him. Laying me down across the seat, he tossed his hat aside and a moment later I had about a hundred and eighty pounds of cowboy, boots and all, stretched out on top of me, kissing me like I'd never been kissed before.
My arms regained enough strength to curl them around his neck. No doubt seeing that move as encouragement, he parted my thighs with a nudge of his knee and pressed himself between them. Any resistance I might've felt fled as I wrapped my legs around him and pulled him against my aching pussy. He was as hard as I was wet, his erection grinding into my flesh in a way that left no doubt as to where this was headed—or at least, where he wanted it to go. On the fringe of my awareness came the roar of an approaching semi. The storm had passed on, leaving the highway free for the flow of traffic to resume. Not that it mattered…
Steve froze in mid-kiss and popped up off me so fast the sudden decompression of my chest left me gasping for air.
"Holy shit!" he exclaimed.
My Review:
This novella is hotter than sin! Brooks takes a completely plausible yet rather unbelievable premise and tells an unforgettable story that readers won't be able to put down. Her vivid and in your face descriptions bring the entire thing to life in a manner that's easy to visualize and to become part of. Brooks also pens some of the most tastefully done erotic scenes, while still maintaining an edge of explosiveness.
This is a very character driven novella, and the characters that Brooks introduces us to do not disappoint. Our cowboy hero is everything that a woman could want without becoming larger than life. I love that he has a less than perfect past, but yet a happy one at that. I did find myself questioning the female lead at one point in time. I mean, really, who does that? But it did work out for her in the long run, and after meeting her fiancé all of her actions are easier to understand. Her decisions also added to the absolutely priceless premise of the story which I definitely did enjoy. I kept thinking how awful the fiancé sounded, even though we didn't meet him throughout the bulk of the novella. When we finally do meet him, he doesn't disappoint. Brooks uses stereotypes to her advantage to draw a great many lines and distinctions that readers can't miss.
Brooks definitely provides a healthy dose of steamy cowboy with Cowboy Delight. This quick, steamy read was definitely a more than pleasant way to spend an afternoon.
Goodreads
~
Shelfari
~
Amazon
~
B&N
~
Google Play
Last I checked, this one was currently free on Amazon & Google Play.
Be sure to pick up your copy before it's too late.