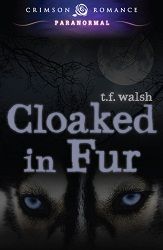 Title:
Cloaked in Fur
Author:
T.F. Walsh
Published:
August 5/13 by Crimson Romance
Length:
254pgs
Format:
ecopy
Genre:
paranormal romance
Shelf:
review
Rating: ★★★★
Back Cover Blurb:
As a moonwulf, Daciana never expected to fall in love with a human. Hell, she never imagined that she'd abandon her pack, endanger everyone around her, and break the worst rule possible. But she did.
A rogue werewolf is killing Daciana's friends, and she sets on capturing the creature. She'll do whatever it takes to stop the beast. The police and her boyfriend, Inspector Connell Lonescu, are starting to question her involvement in the murders, which is endangering the pack's secret existence. But when the pack alpha kidnaps Connell, revealing the awful truth about the creature and its connection to the pack, Daciana must choose between saving the man she loves and saving her pack family from certain death.
My Review:
What an absolutely captivating novel. Walsh has taken the paranormal romance genre and created a unique novel that stands out while still fitting perfectly into the genre. I loved the change in setting, taking us to Romania and using it to create a setting about which so many of us have no preconceived notions. Walsh brought it to life for me in a big way, painting it with her words. The plot was unique. Walsh never depended on things that came before her, but rather invited readers to join her on a fast paced, unforgettable journey that at times more closely resembled a well written romantic suspense than a paranormal romance.
The realism of Walsh's characters is one of the things that sets this novel out on its own. Sure the main character was a shifter, but she was developed in such a way that you could easily believe she lived next door to you. Everything about her was so lifelike and easy to believe. The chemistry between the main characters is sweet and unmistakable.
Walsh's straightforward writing brings this unique perspective to the paranormal romance genre. It's a must read for lovers of all things shifter.