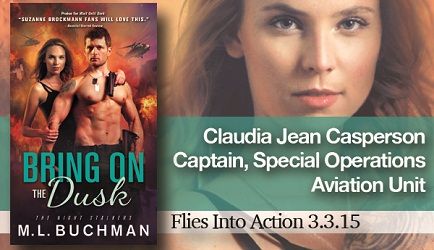 The Warrior Most Likely… by M.L. Buchman
Today I'm celebrating the release of the sixth book in my
Night Stalkers
military romantic suspense series
Bring On The Dusk
. In the story, long-time team member Colonel Michael Gibson of Delta Force finally finds true love with pilot Captain Claudia Casperson.
Each book in the series has followed the battles and loves of members of the real-world's U.S. Army's 160th Special Operations Aviation Regiment. These are the best helicopter pilots and crew on the planet, far in advance of even our closest allies.
The fictitious 5th Battalion D Company was founded by Major Mark Henderson and it is he who has overseen the building of the unit. But in many ways it is the wife he met in Book #1 The Night is Mine who has overseen the lives and loves of those who fly for the 5D. In six books, there has been a wide variety of personalities and skills.
One of the unexpected joys of having the opportunity to build a cast over the course of six books (and yes, there is already a 7th in planning) is learning more about them as each book progresses. Even though Emily and Mark were book #1, Kee and Archie book #2 I Own the Dawn, or Trisha and Bill book #5 Light Up the Night, both the writer and the reader learn more about them as we go. It's part of the joy of the journey.
So fans look back and ask: Who Is The Warrior Most Likely To …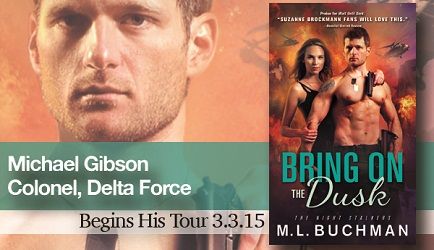 ·
…go undercover and blend in with insurgents? Bill Bruce lands in the opening of
Light Up the Night
embedded undercover deep in Somali. Just because he is six-three of Scottish white-skinned, broad-shouldered SEAL operator doesn't even give him pause. To stand on the soil where his father died during the Battle of Mogadishu is all the motivation he needs.
·
…volunteer for a dangerous mission that will take place in the desert? Claudia Jean Casperson in the newly released
Bring On the Dusk
grew up as a wild child in a ghost town that lay deep in the Sonoran Desert of Arizona. The only child in a community of less than two dozen, she roamed free into the desert and knows more of how to survive there than anyone…except Jeannie Clark from the Firehawks spin-off series Book #2
Full Blaze
who has the skills of a wildland firefighter combined with an upbringing in the Australian Outback.
· …disassemble their weapon the fastest? Nobody, but nobody is a better with weapons than Kee Smith, the sniper and crew chief at the heart of Book #2 I Own the Dawn. She can tear down any rifle faster than most people can shoot one. Of course, if it's a helicopter you need taken apart and put back together, that would be her only real friend, Connie Davis, the heroine of Book #3 Wait Until Dark.

· …prefer the taste of MREs (meals ready to eat) to their own home cooking? Food is a big part of the Night Stalkers. Kee, Connie, and Trisha (book #5 Light Up the Night), however, can't cook their way out of a brown paper bag. Lola and Tim from book #4 Take Over at Midnight both grew up cooking in restaurants. Granted, Lola's was in a New Orleans bordello kitchen and Tim's in a high-end family Puerto Rican restaurant in Washington D.C., but they both can cook. Emily Beale of The Night is Mine is, of course, the master chef just as she is the master pilot. In book #1 she cooks her way right into the White House kitchen and barely survives to leave it again.

And now for a fun one!

· Which warrior is most likely to recite their significant other poetry? This is totally Trisha O'Malley's style. In book #5 Light Up the Night, we learn that she is upper-crust Boston born and bred. But she spent some years running with the inner city street gangs. So, she'll probably read erotic poetry and do it mainly to make the staid Bill Bruce blush brightly. Tim has been known to do the same for Lola in Take Over at Midnight, except the poetry is in Spanish and Lola doesn't blush for a second. Instead they read it together looking for good ideas and tips.
M. L. Buchman has over 25 novels in print. His military romantic suspense books have been named Barnes & Noble and NPR "Top 5 of the year" and Booklist "Top 10 of the Year." In addition to romance, he also writes contemporaries, thrillers, and fantasy and science fiction.
In among his career as a corporate project manager he has: rebuilt and single-handed a fifty-foot sailboat, both flown and jumped out of airplanes, designed and built two houses, and bicycled solo around the world.
He is now a full-time writer, living on the Oregon Coast with his beloved wife. He is constantly amazed at what you can do with a degree in Geophysics. You may keep up with his writing at
www.mlbuchman.com
.
Title:
Bring On The Dusk
Series:
The Night Stalkers #6
Author:
M.L. Buchman
Published:
March 3/15 by Sourcebooks Casablanca
Length:
416pgs
Format:
ecopy
Genre:
romantic suspense
Shelf:
review
Rating: ★★★★★
Back Cover Blurb:
As a five-nation war simmers in the Caspian Sea, Captain Claudia Jean "Cee-Cee' Casperson of the Night Stalkers and Colonel Michael Gibson of Delta Force are called in to subdue the conflict. They'll need all their combined ingenuity to stop a clash that could have catastrophic global repercussions. And they'll need to do it while remaining under the radar. It'll take all the strength they have—but it will take even more for the pair to breach the walls they've built around their hearts.
My Review:
I love how Buchman combines reality with fiction. By placing his stories in real life situations they become so much more intense. The fighting is just as realistic as the downtime. Buchman's attention to detail really makes this story even better. I like how he uses, and defines, acronyms in an easy to follow manner that doesn't disrupt the storyline. This story is fast paced without rushing. Buchman's writing is straightforward yet inviting. He doesn't get caught up in flowery or longwinded narratives that would detract from the story.
Getting to know both of the main character thoughts throughout had me laughing more than once. It also allowed me to get to know them both quite well. I love how goal oriented these characters are. They really love their lives. It's such a refreshing outlook. Their conflicting feelings enhanced my connection to them. Their jobs are dangerous and they worked hard for them, but watching them go beyond that with each other was so rewarding. I appreciate how Buchman neither glorifies nor vilifies his characters and their chosen careers. They simply are.
This novel is easy to read as a standalone or as part of the series. Buchman is quickly becoming one of my go-to authors for a great story.
And before you go! Be sure to enter this fantastic tour wide giveaway with Bring On The Dusk & author M.L. Buchman.