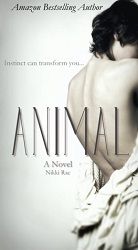 Title:
Animal
Author:
Nikki Rae
Published:
February 28/15
Length:
405pgs
Genre:
NA paranormal suspense (with dark romance elements)
Shelf:
review
Rating: ★★★★
Back Cover Blurb:
Ava has spent her life running from the monsters that lurk in the shadows, always the prey. She finally thinks she can settle down, have a normal life, and work on not being so scared of the world around her. That is until she runs into her worst fear.
He has finally found the potential family he has always wanted. All he has to do is make his little bird sing. Will Ava escape with her humanity intact?
My Review:
Rae has created an intricate story that will keep you captivated while making you ponder the possibilities. This well written story will take you on a chillingly dark journey in Rae's well constructed world. The storyline is disturbing in such a manner that you can't look away. Rae's short chapters make you feel like you're getting glimpses into the lives of the characters, snippets that when put together paint the entire picture. The flashbacks and memories draw you back into the past, showing what happened ears ago that lead to what's happening today.
The three major characters in this novel are all well developed, yet in quite different manners. I enjoyed how Rae highlighted certain aspects of each character, giving them a certain aura to the reader. Michael made me shiver, Evan evoked sympathy, while Ava made me want to exclaim 'you go girl!'. It was very easy to see how they became who they are today based on their pasts. I'll admit that I was a little confused as to how Myles tied in to everything. His past isn't nearly as developed as the rest of the characters. In the grand scheme of things it wasn't really that important, but I did find myself wondering how he came to know everyone.
Rae has created a tale that is simultaneously wildly imaginative and shockingly real. It was a very intriguing story that I read in a single morning.
Be sure to enter this tour wide giveaway!