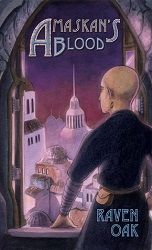 Title:
Amaskan's Blood
Series:
Boahim #1
Author:
Raven Oak
Published:
January 1/15
Length:
499pgs
Format:
ecopy
Genre:
fantasy
Shelf:
review
Rating: ★★★★
Back Cover Blurb:
Her name was Adelei.
She was a master in her field, one of the feared Order of Amaska. Those who were a danger to the Little Dozen Kingdoms wound up dead by her hand. The Order sends her deep into the Kingdom of Alexander, away from her home in Sadai, and into the hands of the Order's enemy.
The job is nothing short of a suicide mission, one serving no king, no god, and certainly not Justice. With no holy order to protect her, she tumbles dagger-first into the Boahim Senate's political schemes and finds that magic is very much alive and well in the Little Dozen Kingdoms.
While fighting to unravel the betrayal surrounding the royal family of Alexander, she finds her entire past is a lie, right down to those she called family. They say the truth depends on which side of the sword one stands. But they never said what to do when all the swords are pointing at you.
Amidst her enemies, in a land from the darkest reaches of her past, she must decide if she is to be more than another brainwashed puppet. No matter her choice, she must fight to do what is just and right to save the people of the Little Dozen.
My Review:
Dark and light intertwine throughout as the author's descriptions bring the story to life. The very enjoyable writing style stays the same throughout, however the tone changes minutely to suit the current events. Sometimes it becomes somewhat muted to enhance the sorrows, at times the intensity ratchets to draw you in to the action. It was fantastic and meshed perfectly with the intriguingly original storyline that Oak developed.
The characters in this novel were perfect for the tale told. The choices that they made drove the story forward while their emotions drew me in. Not only that, but these well-developed individuals held me captive. I thoroughly enjoyed getting to know them, both the good and the bad.
This novel is fantasy in its truest form. It was a very strong start to a fantasy series that I very much look forward to following.